Homemade Detox Drinks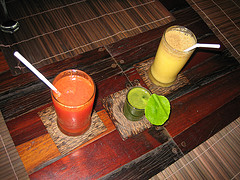 The detox drinks are either homemade fruit juices or smoothies from fresh fruit or drink ready-made juices. One note though its should be pure or unsweetened. One normally accompanies homemade Detox Drinks to the detox food diet plan and that would include fruits (apples, bananas, pears, oranges, grapfruits, sultanas, raisins, pineapple, mango, kiwi fruit, strawberries, raspberries, blackcurrants, nectarines, peaches, melons and star fruits. It can be fresh, frozen, dried, or canned. The diet plan should also include vegetables such as carrots, onions, turnip, swede, sprouts, cabbage, peppers, mushrooms, sweetcorn, peppers, leeks, courgettes, broccoli, cauliflower, salad, tomatoes, cucumber and spring onions. Like the fruits, it can be fresh, frozen or canned in water (without salt). The detox diet plan should also include beans and lentils, tofu and quorn and oats, potatoes, brown rice and rice noodles, rye crackers, rice cakes and oatcakes, fresh fish, unsalted nuts, unsalted seeds, plain popcon (no sugar or salt), live natural yoghurt, extra virgin olive oil and balsamic vinegar, garlic, ginger and fresh herbs, ground black pepper, honey, water (at least 2 litres per day) and herbal or fruit teas.
Detox Drinks that are homemade and can be part of the detox diet are the following: water, nettle tea (collect the leaves and boil with water leave it for a few minutes and then add honey to taste), fruit juices or fruit smoothies, ginger healing detox tea with turmeric (ginger and turmeric combined with citrus and maple syrup make the perfect blend for healing nutrients, peachy iced green tea. Green tea raises metaboli rates and speeds up fat oxidation.

Detox Drink Recipes:
1.Papaya Drink: Blend a small amount (around 200 grams) of green papaya with other fruits and some water in the blender and drink. It is best to drink it first thing in the morning and also throughout the day. It is also useful to eat mostly, or only alkaline forming foods, as this will assist the cleansing process. The person may also take a psyllium shake twice a day and a herbal laxative such as senna to assist th cleansing process.
2.Pineapple, Ginger and Mint Detox Drink: Take half a pineapple and chop it into slices. 400g of sliced pineapple pieces would suffice. Get a fresh pack of chopped mint leaves. You would also require 5g or 1cm of ginger piece to give the ginger flavor to this recipe. Mix and smash the ingredients mentioned above in a juice extractor. Filter out the juice, stir and serve instantly. Add very small amount of sugar if needed. But its always good and would be effective if its consumed without sugar or salt added.


3.Kiwi And Grape Fruit Juice Detox Drink: You would need 225g of kiwi fruits and 70g of billeted green grape fruit. Add the kiwi fruit and the green grape fruit. Add 60ml of water to the mixture. Smash them until the mixture becomes smooth. Pour it to a glass and serve fresh.
4.Orange and Cinnamon Tea detox Drink: You would need 10cm orange rind strips and 2 sticks of cinnamon. Take a saucepan. Add the ingredients mentioned above to the pan. Pour 1 liter of water to this mixture. Boil the mixture for a few minutes. Slow down the heat and boil the mixture for another couple of minutes. Let the mixture not be covered when it boils. Cool, filter and serve instantly.


5.Lemon Juice, Cayenne and Maple Detox drink: Mix warm water, 2 tbsp. real lemon juice, a pinch of cayenne pepper, 1 tbsp maple syrup to form a drink. It cleanses the liver & kidneys out.
Detox Recipes