Detox And Look Younger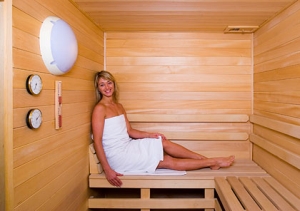 When you hear of anti-ageing treatments, you think anti-wrinkle creams and procedures like botox. But topical creams and procedures fight age only on the surface. To fight age from within, an overall healthy body system is essential. A good way of achieving this is to cleanse your system once in a while. How do you do this? Eating healthy and exercising regularly can keep your system ticking right. You have to keep in mind the damage caused by various toxins that enter your system through pollution or contaminants in food and water. It is important to cleanse your system every now and then by following a detoxification routine.
Detoxification improves the overall performance of various body functions. This results in, amongst other things, a healthier and younger-looking skin. A regular detox regimen can even help you avoid beauty problems like dark under-eye circles. It is advisable to consult a dermatologist before selecting a program, though. Here are some safe and popular detox techniques that you could choose from.

1.Sauna:
The body's natural way to flush out toxins is through perspiration. A sauna works on the same principle. It uses a combination of high temperature (average 82 degree C) and low humidity (25%) to create an environment that promotes overall perspiration, flushing away impurities and cleaning skin pores. This special combination also soothes and relaxes tired muscles, relieves stress and leaves you with a wonderful feeling of well-being. Saunas also help you burn calories. Ten minutes in the sauna is roughly comparable to 10 minutes of aerobic activity! Sitting in high heat and low humidity also increases blood circulation, rate of breathing and pulse rates. Sauna is recommended before and after a massage.
2.Fasting:
The main rationale for fasting is that since far fewer toxins are taken in, the body is able to rid itself of those already present.

3.Diet:
Most detox diets are based on the following principles: eat organic rather than processed foods; curtail consumption of meats; consume more of fruits and vegetables and drink enough water. According to Chinese medicine, consuming certain foods such as radish, turnip, soyabean and vinegar can boost the body's immunity by counteracting or neutralising toxins.

4.Vitamin Therapy:
Vitamins with anti-oxidant properties, like C and E, fight free radicals. A free radical is an atom or a group of atoms that can damage cells and impair a person's immune system. While our bodies contain natural enzymes that work against them, some experts argue that vitamins C and E as well as beta-carotene in vitamin A function as free-radical scavengers, thus protecting us from tissue damage and infections. Be sure to consult your doctor before starting on this one. Unsupervised consumption of vitamins can result in serious side effects.
5.Colon Therapy:
Colonics or cleansing the large intestine with purified water, herbs and other cleansing agents is often combined with fasting to flush out toxins from the body. Going beyond a simple enema, this procedure is performed by a trained therapist. The process involves introducing 20 litres of water, or other cleansing agents, directly into the rectum using a tube or nozzle. This technique removes toxic stool that remains in the folds of the intestine. However, performed improperly or too frequently, it can be dangerous.

6.Manual Lymphatic Drainage:
It is a form of massage that stimulates the lymphatic system (responsible for production of antibodies) with gentle strokes. As a result, the lymph glands eliminate metabolic waste products, excess fluid and bacteria. The effects of MLD are numerous and include regeneration of body tissues. It is known to help in reducing the appearance of wrinkles.
Detox With Yoga