General Diet Tips
Diet Tips To Gain Weight:

In order to gain weight in a healthy order, it is important to to chalk out a good diet plan that includes at least 5 to 6 healthy nutrient dense meals instead of 2 to three meals a day.
A diet for the one who would like to gain weight should include food items that are contain calories., for example nuts,oilseeds, dry fruits and full cream dairy products.
Fats can be included in the diet in healthy way with sugar, butter, oils , sweets and cream however it should be taken in healthy amounts.
Exercise is a good way of gaining weight as it as it increases the muscle mass in the body.
Diet Tips To Lose Weight:


For those people who would like to lose weight, should first and foremost avoid skipping meals and long periods of starvation.
One must avoid eating heavy snack before the main meals as it is this factor that leads one to gain extra weight.
Drinking ample water is necessary for the one who would like to lose weight, as it so happens that when the body s thirsty, the body actually sends out a signal for being hungry.
A healthy diet for the one who would like to slim down should comprise of fruits, vegetable, unprocessed cereals and and grains.
Diet Tips To Avoid Migraines:

Migraines can become less frequent for a person, who can tactfully deal with it with the right kind of diet.
Food items that contain monosodium glutamate, artificial sweeteners, fermented foods, chocolates etc.
Frequent meals should be taken in small amounts , with plenty of water to avoid dehydration.
It is important to keep a note of the food that one has before he/she gets a migraine attack.
Diet Tips / Foods That Heal / Vitamins:


The right kind of diet always contributes to the betterment of health however it is a fact that when people fall sick it is only because of the wrong kind of diet that leads to the increase of toxins in the body resulting in an illness of some kind, allopathy removes the symptoms of the illness but not the root cause of the disease.
There are around 50 kinds of vitamins , minerals and amino acids that ensure good health.
Vitamins are used to correct deficiencies in the body and treat diseases.
There are two kinds of vitamins fat soluble vitamins (Vitamin A,D,E and K) which get destroyed with the heating process of cooking, however a part of these vitamins do get stored in the liver.
The other kind of vitamins are water soluble vitamins (Vitamin B complex and vitamin C).
Diet Tips For Children:

Children should be given meals in variation with food that includes all the food groups.
The meals that are planned for the children should be interesting.
Children always imitate their parents therefore it is advisable to have family meals with children to incorporate healthy eating habits.
Apart from the regular meals it is important to alternate meals with healthy snacks with food items liked by the children.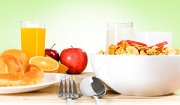 Diet Tips / Changing To A Healthy Diet:

A change in diet should be a gradual process, for the body to get used to the changes , as the digestive system needs time get accustomed to the different diet.
The less healthier foods need to avoided gradually as the system gets used to taking in healthy foods.
One must educate himself/herself about a healthy diet, and should be well equipped with ample knowledge to start a healthy diet plan .
It is important to start with a healthy and wholesome breakfast each morning.
The intake of fresh fruits and vegetables should be increased gradually.
While eating out in a restaurant one must be wise to choose the healthy items on the menu.