Balanced Diet For Children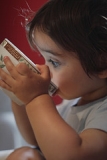 While planning out a good diet for children , it is essential to remember that one must take care of the child's cognitive as well as physical growth. Milk is essential for calcium and can be given various flavours which should be included in at least two meals of the day preferably in both breakfast and the evening snack. Growing children should be encouraged to follow stipulated diet plan and certain food items are must for them that should be included in their meals in the course of the day. There is no specific diet plan for a child except that all the food groups that have been mentioned be added to the diet of the child on a regular basis .The food groups can be added in multiple ways in different combinations to break away the monotony of daily diet . There is no one particular diet plan that does wonders in a day however the food preferences of the children should be added into the menu in a healthy way ;So the diet of the child is a healthy combination of a nutritious and delicious meal .An important factor is that those children, who are more active than those who sit and watch TV or spend time by a computer require more frequent meals comparatively as they burn more energy.
Diets For Children / Important Food Items: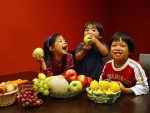 1. Fruits: Fruits are a source of anti-oxidants and helps to retain moisture in the body and it ensures an energetic life including a youthful appearance. Fruits are essential building blocks for the diet loaded with vitamins and minerals and enzymes, therefore it increases the attention span and reduces fatigue. The regular intake of fruits enables smooth bowel action and the smooth passage of food in the intestinal tract which cures constipation keeping the body free of toxic wastes as well.
2. Unsaturated Fats / Good Fats: Unsaturated fats are mainly found in raw nuts olive oil and avocado, these food items contain good fats eases inflammation in our body enabling a better function of the immune system along with the metabolism in the body. 60% of the energy used by the heart comes from fats, which regulates the heart to beat rhythmically.60% of the brain consists of fat that enables the brain to function. Fatty acids ensure the flexible movements of the brain. Fats also slow down the process of digestion giving the body more time to absorb nutrients, it cushions our internal organs as well and is important for the functioning of eyes , nerves as well as lungs.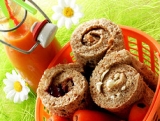 3. Carbohydrates: Good carbohydrates are found in whole grains, which gives the body emery and induces optimum function of the body as good carbohydrates as lo provide essential vitamins and mineral along with phytonutrients, parents should avoid giving their children bad carbs which includes processed refined grains, jams and jellies, bread and pasta made of refined flour, as they lack in nutritional value and fiber as well they overwork the pancreas and cause diabetes, but good carbs have high fiber , also good carbs , they remove toxin levels and lowers the cholesterol as they are from cholesterol and sodium.
4. Salads: Salads are a good edition to any meal and are rich in fiber, and it provides the body with high levels of antioxidants which prevents illnesses, by eating salads one increases his/her intake of good fat. Salads incorporated with healthy fats such as olive oil, avocado and raw nuts increase the absorption of protective phytochemicals. Salads containing green vegetables are good source of Vitamin A, Vitamin C, beta-carotene, calcium, folate, fiber, and phytonutrients.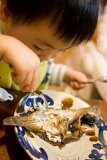 5. Fish: Fish is very good for health, and small fish is a very good source of calcium and contains a healthy fat called omega-3 fatty acids which regulates the level of cholesterol in the body as they do not convert to unhealthy fat in the body , along with being a good source of protein as well , fish are good for the nervous system and the retina also maintains proper kidney function and cell division as well, big fish should be avoided as they may contain metals in them Most fish are rich in vitamin B12 and vitamin D as well.
6. Baked Meat: Meat that is baked is comparatively healthier than meat cooked in oil which is high in cholesterol.
Diet For Teenagers