Take Care Of Your Eyes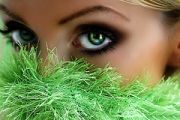 The eyes are the mirror of health and the most expressive features of the face. Beautiful, bright eyes are a part of radiant health and the best asset one can have. They give a wonderful effect to one's personality. Dull and lustreless eyes are an indication of ill health and depressed state of mind. During sickness, the eyes are the first to tell their story of pain.
Eye Problems:
1. Dull Eyes: The main causes of dull and lustreless eyes are physical and mental strain resulting from overwork, worry, fear and anxiety, faulty diet and improper blood and nerve supply. Watching too much television, films, excessive reading, reading either in dim or bright light leads to physical strain on the eyes. Dull eyes are a general symptom of a general toxaemic condition of the body, mainly due to excessive intake of starch, sugar and protein. The muscles and blood vessels surrounding the eyes share in the clogging process taking place due improper metabolism by imbalanced and highly concentrated diet.
Natural Care: The first important factor in restoring normal health and sparkle to the eyes is to loosen the strained and contracted muscles surrounding them. This can be achieved through the eye muscle and neck exercises as mentioned below: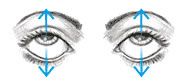 Eye Exercise:

Keep the head still and relaxed, gently move the eyes up and down six times. Repeat the same movement two or three times after a rest of two or three seconds in between.
Move the eyes six times from side to side, as far as possible, without any force or effort. Repeat two or three times.
Move the eyes gently and slowly around in a circle, and then move them low in the reverse direction. Do this four times in all. Rest for two or three seconds and repeat the movement two or three times, using minimum effort.
Check Convergence Exercises For The Eyes:
Neck Exercises:
Rotate the neck in circles and semi-circles.
Move the shoulders anti-clockwise briskly, drawing them up as far as possible several times.
Allow the head to droop forward and backward as far as possible several times. These exercises help to loosen up the contracted neck muscles, which may restrict blood supply to the head.

Palming:
Sit in a comfortable position in an armchair and relax with your eyes closed. Cover the eyes with the palms, right palm over the right eye and left palm over the left eye. Do not press on the eyes. Then with your eyes completely covered in this manner, allow your elbows to drop on your knees, keeping the knees fairly close together. With eyes closed thus, try to imagine blankness, which grows blacker and blacker. Palming reduces strain and relaxes the eyes and its surrounding tissues.

Diet:
Diet is of utmost importance for the health and beauty of the eyes. A healthy diet of milk, butter, fruits, green vegetables and proteins should be taken for proper care of the eyes. Natural, uncooked foods are the best diet. These include fresh fruits, green vegetables, nuts, dry fruits, and dairy products. Cereals are also necessary, but they should be consumed sparingly. Genuine whole meal bread is the best and most suitable. Denatured foods like white flour, white sugar and all products made from them, tea and coffee, together with meat and fish soon play havoc with the digestion and the body. They should therefore, be avoided as far as possible. Constipating or wind-forming foods, alcohol and other intoxicating substances are also harmful and should be avoided.

Vitamin A:
Each of the essential nutrients needed by the body plays some part in the health and beauty of the eyes. The effect of vitamin A upon the eyes is, however, most pronounced. For normal and healthy eyes, a liberal amount of vitamin A must be continuously supplemented with the food. The valuable sources of this vitamin are cod liver oil, whole milk, curds, butter, egg yolk, pumpkin, carrot, green leafy vegetables, tomato, mango, papaya, orange and melon.

Natural Aids:
Amongst the various natural substances, the use of castor oil is highly beneficial for the eyes. This causes increased lachrymation of the eyes for a while, but leaves the eyes clean and cool. Regular massage on the scalp with castor oil decreases eye strain.

Natural Home-made Eye Care