Abdomen Exercises
Basic Exercise - Lower Abdominals: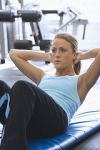 1. The Curl Up:
Lie down on your back with the knees bent and hand by the sides. Engage your lower abdomen and touch the hollow of the lower back to the floor. Raise your head towards your knees, followed by the shoulders, the chest and the back. Get your head as far forwards towards the knees as possible. Go back, slowly imprinting each vertebra on the floor in a sequential manner. Breathe out when coming up and in while going down to the lying position. The entire movement up has to be slow and deliberate without jerking the body for assistance. Folding the knees more and getting the heels closer to the hips increases the difficulty while straightening the legs makes the movement that much easier. Do twenty to sixty sit ups, depending on your capability.

a. Abdominal Kicks: This is for your lower abdomen. Lie down on your back. Try and touch the hollow of the lower back to the floor. To do this, lift your head from your neck and keep your hands under your hips with the palms towards the floor. Keeping your knees and feet joined, bring your knees to your chest without lifting your hips from the floor. Now straighten your legs in a controlled manner and hold them keeping the heels about one foot above the floor. Breathe in while pulling the knees to the chest and out while kicking the legs straight. Repeat the action for twenty to forty times depending on your capacity.

b. Reverse Curl ups: Lie on your back, keeping your hand under your neck. Keep your thighs vertical from the floor with the knee bent at a right angle. Without changing the angle at the knee, lift your hips from the lower back and try getting the knees towards the chest. Breathe out when raising the hips and in when going back to the initial position.

c. Hanging Knee Raises: Hang from a bar or a beam with the knees and feet together. Lift the knees parallel to the floor. Keeping the knee at a right angle try and get the knees towards the chest by pushing from the hips and pulling from the lower abdomen. Breathe out when lifting the knees, and, in when going back to the initial position.
Upper Abdominals:
1. Sit Ups: Lying flat on the floor with your arms by your side, palms flat on the floor, bend your knees and keep your feet flat on the floor a little distance apart in line with your hips. Lift your head and shoulders - inhaling as you move up - and push your fingertips towards your knees keeping your arms straight. Lower your body back to the starting position, exhaling as you go down; repeat the movement.