Exercises For A Toned Body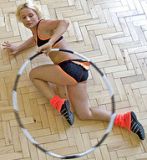 Toning muscles requires specific exercises targeted at the areas that need to be toned. Toned muscles are larger than untoned, which means that over concentration on an area can lead to bulking up. Unless this is what you want, it is important to control the intensity of toning exercises. Once you have reached a level of toning that you are happy with, then it's strictly maintenance, not further building, that should be concentrated on. Many gyms or local classes focus on a routine of toning exercising, known as body sculpting. This uses a combination of weights and aerobic exercise, and a routine that places the same emphasis on all muscle groups. However, as most women look to sculpt their abdominal muscles, thighs, arms and buttocks, you will find that these areas are concentrated on.

However, many experts will say that using old-fashioned techniques, such as sit-ups, bench presses or stomach crunches are absolutely fine, they still work as well as they ever did. If you feel your muscles lack definition after months of hard work, you may need to evaluate your weight and see whether losing a few pounds would show off your muscle tone more. Anaerobic exercise is good for building muscle to tone, it is imperative that you ensure that the exercises are done correctly. You can, and probably will, hurt yourself if you don't concentrate fully on posture. Pulling in your stomach, for example, helps to support your back. It also makes all the hard work you are putting in to toning up much less effective.

One of the most popular parts of the body for toning is the stomach,, as this often shows the most obvious signs of bad eating habits and a lifestyle bereft of exercise. In the perfect abdominal crunch, your back should be flat against the floor, never arched, with knees bent and hands placed behind your head or across your chest. Contract your stomach muscles so you draw your belly button towards your spine, keeping your lower back flat against the floor. Pull in your stomach muscles, bringing your shoulders just a few inches or so off the floor. Breathe in as you come up, and out as you relax back down. Go back down slowly. For more intensity, hold the crunch for a few seconds before you let yourself back down to shoulders on the floor. You should continue this for three to five minutes. It is always advisable, however, to have a qualified exercise instructor show you exactly what to do, and if you suffer any existing back pain, see your doctor before doing any toning routine. Remember, you can do as many toning exercises as you like, but you will not see real results unless these are combined with a healthy lifestyle that involves sensible eating habits and cardiovascular exercise.
Exercises For A Toned Body