Breathing Techniques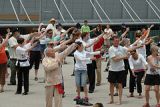 How you breathe during any physical effort can make all the difference on how pleasurable and meaningful the activity becomes. In many fields such as Martial Arts, Yoga, Meditation, long distance running, a lot of importance is given on learning to breathe in the correct manner. Here are some thumb rules of breathing that work:

1. Always maintain a correct natural posture: Natural breathing can only flow from a natural posture. The back should be straight and upright but not ramrod stiff. It is very important to have the natural curve of the back maintained. The shoulders should not stoop forward or be forcefully pulled back - they should be relaxed without causing any strain on the neck or back. Try and maintain a correct posture at all times - when standing, walking, sitting, or at work. It might be a bit difficult at the beginning if you have, over time, developed a bad posture. But regular awareness and effort should see you through to a good posture in due time. Once you get into the habit of maintaining a good posture, it will become much easier to apply all the other thumb rules that follow.

2. Use your lower abdomen: When we breathe during physical exertion, most of us do so using more of our chest - by expanding and contracting our rib cage. To use the lungs to their full potential, your diaphragm too should come into play in a major way. While breathing in, move your abdominal wall out - it assists in pulling the diaphragm down - resulting in a better expansion of the lower lungs and pulling in fresh oxygen all the way down and saturating all the lung cavities. Similarly, while breathing out move your abdominal wall in - way towards your spine - this has the opposite effect - it pushes the diaphragm up - forcing out the carbon dioxide from your lungs more effectively. When breathing out, move your awareness to the region just below your navel. You should get a sense of the region contracting and almost touching your spinal column while your lower spine maintains its natural arch. If you are bending forward while doing this - you are not doing it right. The moment you feel that you have exhaled completely should be the moment when you feel your lower abdomen cannot contract any further. When breathing in, imagine that you are letting go of the same lower abdominal region, and it is relaxed and fresh air is being drawn in to your lungs and filling up your entire body.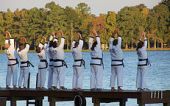 3. Do not inhale through your mouth: It dries up your mouth and throat, and you end up prematurely thirsty and tire yourself out much sooner. Also, the natural filtering and humidifying of the air that takes place when you inhale through your nose does not take place. However, this probably does not apply when you're swimming.

4. Take time to exhale: Whenever you move your awareness to your breathing, concentrate mainly on the exhalation. Concentrate on the lower abdomen and its total contraction right through the exhalation. Then, relax completely while maintaining your posture and let the inhalation process happen naturally - on its own - without making a conscious effort. The exhalation can take place through the mouth or the nose, depending on what you are more comfortable with.
More Correct Breathing Guidelines For A Workout