General Fitness Tips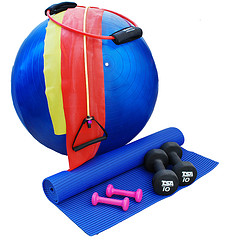 Are you unfit and out of shape? You might blame lifetsyle because today everything is geared to make life as easy as possible, and you might find it hard to make time to take exercise. However, keeping fit does not need to be hard work and time-consuming. If you want a firmer, healthier body, simply follow the exercise tips.
General Fitness Tips:

If you are not in the habit of exercising regularly, it is advisable to check with your doctor that this exercise routine is suitable for you.
If you feel any pain or feel dizzy, or experience anything other than the normal sensation of muscle fatigue, stop exercising.
Always work out at your own pace; don't feel you have to work faster than feels comfortable or do more than you feel capable of.
It is advisable to avoid exercise if you are ill, or have a virus or a raised temperature.
Many women take up stretching exercises such as yoga. These are particularly good for keeping toned, supple and relieving stress. However, it is also important that you do cardiovascular exercise - exercise that keeps your heart and lungs healthy.
About 70% of your body is water; it is in your bones, blood and every cell. We lose over 2.5 litres of water a day in sweat, urine, and other waste products, so it is important to replenish this, especially if you are losing extra water through exercise.
A banana is the ideal pre-exercise snack. It is full of energy-giving carbohydrates but is light enough not to leave you feeling bloated.
Often, the quality of work-out will depend on the level of preparation you put in. As well as warming up, check your equipment and clothing and ensure that you have plenty of water on hand.
It is important to wear appropriate clothing when you exercise. Choose lightweight garments that allow your skin to breathe.
It is important to have the right footwear for any sport, but particularly so far activities such as running that involve a lot of time and pressure on your feet. Soles should be cushioned and the shoe should give your feet firm support.
Stretching muscles after exercise will help to guard against aches and pains the next day and will reduce the chances of sustaining an injury.
Rice and pasta are good foods to eat after exercising, as they are high in energy-giving carbohydrates. It is best to wait at least an hour after exercising before you eat a large meal. You can eat a high-energy snack in the meantime.
A good way to firm up your stomach muscles is to lie on your back with your knees raised but your feet on the ground. Keep arms by your side or behind your head and raise your shoulder blades off the ground.
Many people make the mistake of lifting all the way up when they do sit-ups. This is not the most effective way to exercise and can lead to back strain, especially in the lower back.
Any exercise that involves bending and stretching the legs will be good for toning the thigh and buttock muscles.
It is never too late to feel the benefits of exercise. But if you are of advanced years, it is important to consult your doctor before taking up strenuous activity, particularly if you suffer from certain health conditions.
A session on a running machine or bike in your local gym will help you burn off a lot of calories. Remember to drink plenty of fluids and have a healthy snack on hand to boost your energy levels when you finish.
Often the most effective exercise programmes are ones that incorporate healthy activities into the everyday patterns of life. A good example of this is walking or cycling to work or the shops instead of taking the car.
It's amazing what a difference even small changes to your lifestyle can make. Try using the stairs instead of the lift. It's much healthier, and you'll often find that it's quicker too!
Homemade Beauty Tips