Pre Exercise Care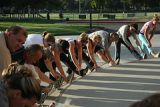 Before rushing into an activity, no matter how busy you are, it is important to complete a thorough warm-up and stretching routine to avoid cramping and injury. It is also a good idea to double check that you have everything you need, including sufficient water, to sustain you during your workout. Don't forget that if you are exercising outdoors, wearing sunscreen will keep you safe from burning, although you may prefer to choose a sun milk as this is lighter on the skin and allows you to sweat more comfortably. Extremities such as your nose, cheekbones and shoulders will need extra sun protection so use a total sun block on these areas. Also, adequately cover the back of your neck, and wear a hat when it is very sunny to keep safe from sun overexposure. Check your footwear for worn laces or soles. If you have bought new footwear, it is a good idea to break them in gradually rather than start with a long session of exercise, as new footwear can rub and cause blisters and other injuries to the feet. Ensure that you have warm clothing with you for post exercise cooling - the body, especially if it has become very wet with sweat, can become cool very quickly, keep away from tea, coffee or carbonated drinks before you work out as these will act to dehydrate you more quickly, and also steer clear of high-sugar foods that will give you an initial energy rush but won't sustain you for long enough.
Warm Ups:

It leads to:

Produces faster, more forceful muscle contractions
Efficient calorie burning by increasing the temperature of the body
Increases the elasticity of the muscles and prevents injury
Increases the metabolic rate so that oxygen is delivered to the muscles which are working more quickly
Gives you better muscle control by speeding up your neural message pathways to the muscles
Increases the joint range of motion
Increases arousal and focus on exercise
Prevents the buildup of lactic acid in the body.
Pre Exercise Care - Warming Up Exercises