Find The Right Gym For You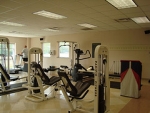 In the pursuit of fitness, you might find that finding the right gym is not as easy as you think. You will see that it is a long and hard process to find the correct gym suitable for you. You will have to see what the gym has to offer you before you sign up for membership. Here are some of the things you should find out before joining a gym. Before signing up for the gym, you have to first find out what kind of gym you will work out in, where it is and how far is it for you and how is the easiest way to get there. There is a certain goal you have in mind that you would like to achieve, that is the reason you want to join a gym. That goal could be weight loss, or gaining muscular mass, or keeping in shape or maybe even keeping fit. Then you have to decide which gym would be comfortable for you and whether there are too many people and for how long you would have to wait to use the machine while someone else is using it. Make sure the equipments are clean and in good shape, and also find out if it is air conditioned, whether it is spacious and the timings are flexible.

How To Find The Correct Gym:

1. Ask Family And Friends: Would they recommend their health club to you is a huge motivating factor. You will feel much at home in your own social milieu. Ask them about the benefits and drawbacks of the gym where they go before choosing your own gym.
2. Get A One-Week Trial: Many gyms offer a one week trial. Some gyms market and advertise this information while in some gyms you have to ask for it. You can then check out the crowd that frequents the club, what sorts of classes are offered, and when. Visit during the time of day you want to work out, and see if it feels like a good fit. The best way to get a free one week trial is to walk in to any gym and ask for one. You can also call up and ask for a prior appointment. Meet a sales representative, ask about the different classes offered, and since you are already there, make it the first day of your classes.
3. Check Out The Equipment: Research has shown that women respond better, psychologicaly and physically to a mix of aerobics and weight training than to cardiovascular exercises. So, go prepared with the right questions about equipment. Make sure that all the equipment in the gym , machines, benches, barbells, dumbbells, free weights, treadmills, bikes, etc are all fairly new and in good working condition. If you are following a weight training program, make sure the gym has all the equipment that you will need for it.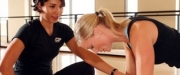 4. Think Small: You often get more individualised instruction at smaller gyms, especially if you can work out during off-peak hours, late mornings or early afternoon on weekdays. The only way to determine how busy a gym is and how many people are on the machines using the equipment is to go at your normal work-out time, This will give you an idea as to what timing would benefit you the most and you would have more time on the machines. The busiest hours at a gym is mostly between 4pm to 6pm and the busiest day of the week is Monday.
5. Consider A Women's-Only Club: Many women feel uncomfortable in traditional gyms. Branches of Contours are slated to open soon in Delhi, Mumbai, and other towns (contoursexpress.co.in). Also, several gyms have designated hours just for women. Joining a all women's gym is has its advantages are the equipment is specially designed to suit a woman's needs. The gym are smaller and more intimate.If you have never worked out before,it can be overwhelming to join a large co-ed gym, where everyone knows how to use the equipment. Smaller women friendly gym have more instructors to teach you.
6. Stay Close To Home Or Job: Studies have shown that the closer the gym, the more likely you are to stick with it. If you are closer to the gym, that will add to your motivation not to skip classes and you will have a better chance to make it to the gym on a regular basis. The closest gym might not be the best but it is important to check your schedule to decide when and where you are going to work out. If you are going to workout during the week, then choosing a gym closer to your workplace would be a good idea.


7. Be Savvy About Money: Read the fine print on the forms while filling up for membership and make sure that you can cancel your contract any time you wish. Watch out for "cheap-bait" ads that may require you to switch to expensive contracts later.
8. Group Fitness Classes: Be sure to ask about the group fitness classes that are offered at the gym you are considering joining. Often, when regular exercise gets you bored, this is just that thing that can get you going. Do check if there are additional fees charged for these group fitness classes.
9. Parking: After determining about the hours that you would go to the gym, check out if there is ample and safe parking.
10. Use The Lockerrooms And Bathrooms: Another way to find out the gym' cleanliness is to check out the locker rooms, bathrooms shower area as this is the place you would be using on a regular basis.
11. Pay Attention To Customer Service: This is most obvious but most of the time it is overlooked. While selecting a gym, you need to ask a lot of questions regarding many general things about the gym. This will allow you to test the patience of the staff and their mannerisms with the customers because if you ever have any problem with the gym, the last thing you need to do is deal with an impatient staff member.
More On Finding The Right Gym