Hair Care - Shampooing Your Care
Herbal / Natural Shampoos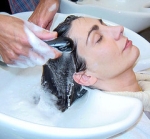 Regular Shampoo: Use a home-made mixture of shikakai (Acacia concinna), Reetha (Chinese Soapberry - Sapindus mukorossi) and amla (Indian Gooseberry - Emblica officinalis) in equal ratio gives hair better appearance than shampoos and it is also devoid of ill effects on the hair.
Protein Shampoo:Apply the white part of egg once a week to your hair; it provides protein to the hair root.
Health Shampoo: Take reetha (Chinese Soapberry - Sapindus mukorossi), shikakai (Acacia concinna), fuller's earth, Nutgrass (Cyperus Rotundus), henna and Indian gooseberry in equal quantities. Soak it in water overnight and make a paste out of it the next morning. Use this paste to wash your hair. This is one of the best shampoos.
Hair Fall Preventive Shampoo: Paste of flower of sesame and Puncture vine in cow milk should be applied for seven continuous days. This stops hair loss and encourages growth.
Color-Improving Paste: Soak Henna in water overnight, and boil it until it becomes paste. Apply it on the hair and wait until it dries up before washing it with water only. Do this process once a week. This improves hair color and shine.
Natural Shampoos: Nature has an abundance of goodness stored in products like shikakai (Acacia concinna) and reetha (Chinese Soapberry - Sapindus mukorossi). They act as cleansing agents, while henna is a good conditioner. Soaps don't clean your hair effectively since they leave behind fine granule deposits of calcium and magnesium, leading to an unhealthy scalp. Soaps strip your hair off natural oils, making hair look dry and lifeless. The pH level of your hair is neutral while soaps have a pH level of about 10, making them highly alkaline. Hair requires as much high quality care as skin does to keep it healthy.
Quick Tips For Shampooing: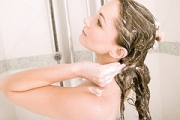 1. When shampooing and rinsing, always work from the scalp area out to the ends. This is the direction of the cuticle scales.
2. Try not to cluster or bunch longer lengths of hair as you massage; this can cause tangling.
3. Don't vigorously rub the hair against itself while you shampoo or condition. This will roughen and stress the hair shaft, particularly the cuticle scales.
Hair Cosmetic Recipes:
Here are some Herbal Cosmetic Recipes for healthy hair.
Pure Shampoo: The ingredients for this recipe are chosen for their desirable aromatic flavor.
Composition: 1-2 tbsp dried herbs of your choice (Marigold (Calendula officinalis), shikakai (Acacia concinna), henna); 8 ounces purified water; 2 ounces liquid glycerin soap; 1 tsp base oil of your choice (eliminate or reduce for oily conditions, increase for dry); 15-60 drops essential oils of your choice, as conditions require.
Yield: 8-10 ounces.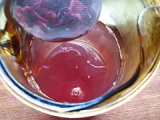 Preparation: Prepare a decoction or infusion of your desired herb or combinations of herbs. Remember that a decoction is used for roots, stems, and seeds, or more fibrous, tough plants, while infusions are used for more delicate plant parts, including leaves and flowers. If you are combining herbs that need different treatments, decoct and infuse them separately, then mix these liquids.
For a decoction, place the herbs in water in a stainless steel or glass pan. Bring to boil, reduce the heat, and simmer on low flame for upto 10 minutes. Remove from the heat, let the mixture cool, strain off the liquid, and discard the spent herbs.
For An Infusion, bring the water to boil. Place the herbs in a stainless steel or glass pan and pour the boiling water over them. Let steep for at least 20 minutes, then let the mixture cool (if it is'nt cool already), strain off the liquid, and discard the spent herbs.
Tip: To increase the potency of the formula, let the herbs steep in the cooled liquid in an airtight container for a couple of days before straining and using.
Mix the herbal infusion or decoction with the soap, base oil, and desired essential oils. Shake well. Refrigerate the shampoo between uses, for upto a week. Application: Use the formula for every shampoo. Shake well before each use. You can also add ingredients with properties suitable for your particular hair condition, such as apple juice, honey, egg, aloe-vera, gelatin, and glycerin or lecithin. Use 1 tbsp per shampoo formula.