Overcome Hormonal Changes With Aromatherapy
Different Stages Of Hormonal Changes: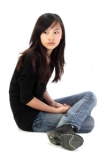 1. The Teenage Years (Adolescence):
Adolescence is a time of change, both physically and emotionally. Aromatherapy can help smooth the transition from childhood to becoming a young woman with gentle cleansing applications and soothing inhalations. The actual rate at which children grow up varies greatly and there can be several years difference in the age at which individual children reach puberty. With the advent of puberty, both health and emotional patterns begin to change. The pituitary gland, responsible for the body's physical growth, begins to release hormones which stimulate the ovaries or testicles to produce eggs or sperms. As soon as these hormonal changes begin to take place, the girl starts to become a young woman and the boy a young man. For a girl, one of the most obvious signs is the developing of breasts and the onset of her periods. This can be a difficult time as she either adjusts to the physical changes that are taking place, or worries because they are happening too fast or not too fast enough. Essential oils can be extremely useful to alleviate some of the physical discomforts and emotional aspects often associated with puberty and menstruation. The teenage years are typically turbulent times. A girl's body is rapidly growing and changing in new and startling ways, and her hormones are likely to be affecting both her body and her mood. Hormonal changes trigger an imbalance of sebum in the skin which can lead to greasy skin and hair. This can be awkward at a time when a young woman is becoming aware of her appearance, and of the effect she has on the opposite sex, and feelings of inadequacy are common. The associated emotions of anxiety, resentment, fear and jealousy can all increase stress levels and trigger further reactions in the hair, skin and nails. Essential oils can be very useful both in alleviating unsettled emotional states and treating the skin and hair problems themselves. Aromatherapy, used correctly, forms just one part of a holistic approach to health.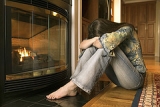 Coping With Teenage Hormonal Changes Through Aromatherapy:
Stress And Anxiety: Apart from the changes in her own body, life in the outside world can also be problematic for today's teenager. If a parent changes job, the family may have to move house and area. This means a new school, with a new teacher, and no immediate friends - all at a time when the academic workload is increasing and exams are becoming a reality. There may also be problems within the family. Growing up involves finding out who you are and having your own ideas and opinions.
Solution: Whatever the reason for stress or anxiety there are numerous relaxing essential oils which can help. These are best used in the bath, or for more immediate results, by inhalation. Inhalation is the fastest way for an essential oil to reach the brain. Vaporize ylang ylang for its balancing and calming properties.

Lifestyle Changes: A good starting point is to make a record of your dietary intake each day for a week. Try substituting fresh fruit for crisps and chocolate, or fresh juices and/mineral water for carbonated, sugary drinks. At the same time, monitor improvements to your skin.
Solution: If you support yourself by taking aromatherapy baths to relieve stress and follow the skin-cleansing regime, you should see visible results within a week.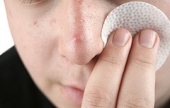 Problem Skin: The hormonal changes of puberty lead to increased production of sebum by the sebaceous glands in the skin. From the normal, peach-like skin of childhood, a young woman may find her skin, particularly on her face, changing in texture. The pores become enlarged and more open and the skin becomes oily, particularly on the forehead and a T-panel leading down the nose and on to the chin. These open pores are a breeding ground for bacteria, leading to spots, pimples and blackheads, which is why a regular and effective skin cleansing routine becomes so important. For this, a daily skin care routine should be followed with essential oils added to the unperfumed creams or lotions can be useful for treating difficult skin conditions and to help with the added emotional difficulties of low self-confidence. Teenage acne is very common. It is caused when excessive amounts of sebum forms a blockage at the skin's surface on the face, shoulders and back. Regular steam inhalations with juniper can help clear blocked pores or blackheads.
Solution: A tip for daily skin care routine is: Cleanse the skin with a light, water-soluble cleansing milk. Make your own by blending 1 drop of each of rosemary, lavender and geranium oils into 30 ml (2tbsp) base lotion. Rinse off with cold water. make a gentle, purifying mask by adding 2 drops each of cedarwood, juniper and lemon essential oils to 30 ml (2tbsp) base cream. Apply to face and leave for ten minutes. Rinse off thoroughly with cold water. Add 3 drops of lemon and geranium oils to 50 ml (2 fl oz) distilled water. Wipe over the face and neck as a tonic. Follow with a moisturizing lotion mixed with 2 drops of hazelnut oil.
More On Skin Care For Teenagers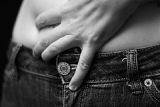 Stomach Pain: Stomach ache or period pains can be treated by applying a compress using basil, lavender and sweet marjoram. A piece of soft cotton or linen soaked in a water-oil mix makes a good compress.

Hair Care: Hair problems for teenagers will often mean greasy hair. Greasy hair needs frequent washing with a suitable shampoo to prevent the excess oil from causing spots around the hairline. However, the rubbing action on the scalp stimulates the sebaceous glands to produce more sebum and can make the problem worse. Add an astringent essential oil to an unperfumed shampoo for your own aromatherapy treatment at home. Take care to apply the shampoo to the hair and not the scalp. If your hair lacks lustre, try adding the appropriate oils to an unperfumed conditioner base. Hair loss can also be a problem for some young women. This can be brought on by the stress of exams and personal worries and also by harsh treatments of hair that is already weak, such as dragging it back too tightly from the forehead with hairbands.
Solution: Mixing essential oils with your shampoo can help strengthen weak hair. If your hair is in poor condition, use a separate conditioner; products which aim to combine a shampoo with a conditioner are rarely effective as they cannot both do jobs well. Add the essential oils your hair needs to an unperfumed, basic conditioner. Apply the mixture to your hair and scalp after shampooing and towel-drying. Cover with a plastic bag to keep in the heat, and leave for 30 minutes before rinsing well.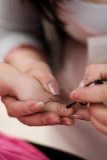 Nail Care: Nail biting is often connected to stress and has a strong emotional component. It can be a difficult habit to break. Because teenage girls are often concerned with appearance, the desire for beautiful, manicured nails may help to overcome the problem. Strong and beautiful nails begin at the cuticle.
Solution: Use an oil mix and gently massage it on to the cuticle and surrounding area daily. After three months, you will see improvement in your nails. Discourage nail biting by coating the nails daily with neat lavender oil. The unpleasant taste of the oil will stop the chewing. Apply neat lavender oil daily to the nail cuticle to improve the condition of weak nails.
Different Stages Of Hormonal Changes