How To Identify Your Man's Skin Type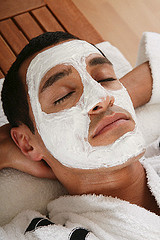 Before you start with any skincare regime for your man, it is important to know his skin type. Once you identify his skin type, you'll be able to buy him the right beauty products that will work effectively. To know his skin type, do a tissue test. Ask him to wash his face with a soap-free cleanser at night. Do not moisturise. The next morning, cover his face with a tissue, press it hard on the skin and then take it out.
1. He Has Normal Skin If: The tissue comes out clean and the skin is not feeling taur and dry. Normal skin does not feel oily, its texture is firm and the pores small. His complexion will be evn-toned and the skin moderately thick and smooth with good elasticity and moisture.
Care For Normal Skin:
- Cleanse with a gentle face wash.
- Use an alcohol-free toner.
- Moisturise with a water-based lotion.
- Scrub twice a week.
- Use face masks as often as possible.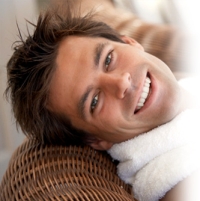 2. He Has Oily Skin If: The tissue shows, greasy patches all over and the cheeks and the nose appear shiny. Oily skin is typically thicker and firmer than normal skin, with less sensitivity to chemicals, detergents, or perfumes. The pores are medium to large in size and sometimes become clogged with a sebaceous material that causes blackheads, whiteheads or blemishes. His face appears shiny and summer months spell skin disaster. The good news is that his skin is less prone to wrinkling.
Care For Oily Skin:
- Cleanse with a face wash with AHA or salicyclic acid to control grease.
- Use an astringent-based toner to wipe off the excess oil. Use an astringent aftershave too.
- Apply oil control moisturiser during day. Skip it at night to let the skin breathe.
- Scrub thrice a week to avoid clogged pores.
- Use clay or fruit-based packs almost daily.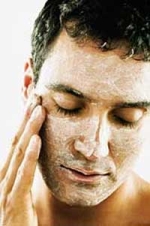 3. He Has Dry Skin If: The tissue comes out dry, the skin feels stretched and you notice flakes on his forehead and cheeks. Dry skin is usually thin, dull, easily irritated and rough to the touch. Wr is his biggest enemy. Dry skin can appear very smooth due to the small size of the pores, but it is prone to wrinkling too. The skin tone appears patchy due to extra build-up of dead cells.
Care For Dry Skin:
- Cleanse preferably with cleansing milk or a mild soap-free face wash. Use a gel instead of a shaving cream.
- Skip the toner. Apply an aftershave balm.
- Use a day cream in the day and a slightly rich night cream.
- You can also use eye cream to hydrate the dry skin under the eyes.
- Use a gentle face scrub twice a week.
- Use skin hydrating face packs with milk protein thrice a week.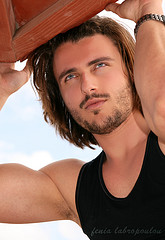 4. He Has Combination Skin If: The tissue shows greasy patches only around the nose, chin and forehead. His cheeks feel normal or dry but by mid day, he needs to wipe off his T-zone - forehead, nose and chin area - as it oozes oil. This is the most common skin type for most men. Here, the skin is generally firm but your man needs to own two sets of products to effectively treat his skin.
Care For Combination Skin:
- Use a face wash meant for combination skin type only.
- Use an alcohol-free toner on the T-zone.
- Apply light water-based moisturiser in the morning; use an oil control gel / lotion on the T-zone and a regular lotion on the rest of the face.
- Scrub three times a week.
- Use a clay pack on the oily area and a hydrating one on the rest of the face at least three times a week.