Hair Coloring And Bleaching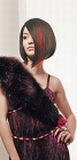 Hair colourants have never been technically better. Nowadays it is a simple matter to add a temporary tone and gloss to the hair or make a more permanent change. And there is a wide variety of home colouring products from which to choose. Temporary colours are usually water-based and are applied to pre-shampooed, wet hair. They work by coating the outside, or cuticle layer of the hair. The colour washes away in the next shampoo. Temporary colours are good for a quick, but fleeting, change or for counteracting discolouration in blonde or white hair. Colour-enhanced shampoos combine a wash-out colour with a shampoo. They are similar to temporary colours, are easy to use at home, and are prefect for adding tone to grey, white or bleached hair. Semi-permanent colours give a more noticeable effect that lasts for six to eight shampoos. They can only add to, enrich, or darken hair colour, they cannot make it any lighter. Semi-permanent colours penetrate the cuticle and coat the outer edge of the cortex (the inner layer of the hair). The colour fades gradually and is ideal for those who want to experiment with colour but don't want to commit themselves to a more permanent change. Longer-lasting semi-permanent colours remain in the hair for 12-20 shampoos and are perfect for blending in the first grey hairs. The colour penetrates even deeper into the cortex than in semi-permanent colours. This type is perfect for a more lasting change. Permanent colours lighten or darken, and effectively cover white. The colour enters the cortex during the development time (around 30 minutes) after which oxygen in the developer swells the pigments in the colourant, and holds them in. The roots may need retouching every six weeks. When retouching it is important to colour only the new hair growth. If the new colour overlaps previously treated hair there will be a build-up of colour from the mid-lengths to the ends, which will make the hair more porous.
Caring For Colored Hair: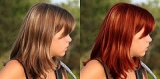 Chlorinated and salt water, perspiration and the weather all conspire to fade coloured hair, particularly red hair. However, certain special products are available that will help counteract fading, such as those containing ultraviolet filters that protect coloured hair from the effects of the sun. Other protective measures include always rinsing the hair after you have been swimming, and using a shampoo that is specially designed for coloured hair, followed by a separate conditioner. Gently blot the hair with a towel after shampooing - never rub it vigorously as this ruffles the cuticle and can result in colour "escaping". Finally, use an intensive conditioning treatment at least once a month.
Bleaching:


Anything that lightens the hair bleaches it, but here bleaching refers to any treatment that removes colour from the hair, rather than adding colour, which is the purpose of permanent colourants. There are several different types of bleach on the market and they range from the mild brighteners that lift hair colour a couple of shades to the more powerful mixes that completely strip hair of its natural colour. Bleaching is difficult to do and is best left to a professional hairdresser. To get the best results make sure that your hair is in optimum condition. Once the hair has been bleached, regular intensive conditioning treatments are essential.
Color Fact File:

Colouring swells the hair shaft, making fine hair appear thicker.
Because colour changes the porosity of the hair it can help combat oilyness.
Rich tones reflect more light and give hair a thicker appearance.
Highlights give fine hair extra texture and break up the heaviness of very thick hair.
Too light a hair colour can make the hair appear thinner.