Hair Coloring And Bleaching
Choosing A New Color: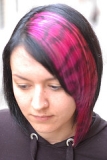 Chlorinated and salt water, perspiration and the weather all conspire to fade coloured hair, particularly red hair. However, certain special products are available that will help counteract fading, such as those containing ultraviolet filters that protect coloured hair from the effects of the sun. Other protective measures include always rinsing the hair after you have been swimming, and using a shampoo that is specially designed for coloured hair, followed by a separate conditioner. Gently blot the hair with a towel after shampooing - never rub it vigorously as this ruffles the cuticle and can result in colour "escaping". Finally, use an intensive conditioning treatment at least once a month.
Choosing Your Coloring Type:


Whether you want an all-over color that will be gone by morning or subtle lights that will last for months, there is a color process for you. But success relies on choosing the right one.
1. Temporary colors: Also known as wash-in, wash-out colors, they are water based and lightly coat the hair shaft with color. Temporary hair colors are available in all drugstores and they come in a variety of colors and products. Some rinses can be applied on a weekly basis. There are also colored gels and mousses available for slight colored effects. Hair mascara is one such color which can be applied for one use and washed out. Spray on colors are also available. If you have highlights or bleach on your hair, color will stick loonger, leaving you with some very strange streaks when you wash out. Also, colours wash out if it rains and it may come off on pillows or light colored clothes.
2. Semi-permanent colors: These coat the outer hair shaft and penetrate the top layer of the cuticle, creating a color that will wash out after four to six washes. It contains no ammonia and does not contain peroxide. It is used for tone changes and adds shine. To make the color last longer, avoid washing your hair for two to three days after the intitial application. If you have the opposite problem and cant stand the color, washing-up liquid will strip the color. Make sure to use conditioner afterwards.


3. Tone-on-tone colours: Between semi-permanent and permanent colours, these use low levels of peroxide to help the colour penetrate the hair shaft, but wash out rather than grow out after five to twelve weeks. Because semi-permanent colours contain no bleach, you will find that they don't always work well if you are trying to lighten dark hair. This is where tone-on-tone colours really come into their own, as they lighten without the commitment that come with permanent colours. Care advice is the same as for semi-permanent colours, but the washing-up liquid trick won't work very well.
4. Permanent colours: These colours contain some amount of ammonia and is mixed with an activator or developer. The activator fully lifts the cuticle of the hair and removes natural pigment, even when going from light hair to dark hair. The colour will last until it naturally grows out, but poor maintenance causes the colour to fade soon and the glossy sheen also which makes the hair look good will disappear. Use shampoos which are made specially for coloured hair. Finally, when new hair grows, colour them alone. Applying permanent colour to the whole head repeatedly is the fastest way for hair breakage.
Natural Hair Coloring:

1. Henna:



An extract of the henna plant, this uses an ingredient called lawsone to coat the hair shaft. Henna is one of the most misunderstood colorants, as everyone thinks its natural and therefore good for the hair. In fact this is not true, henna can coat the hair so thickly that it actually stops conditioners from penetrating the hair, creating a dry, frizzy mess. With so many good colorants out there now, messing around with henna really is not worthwhile. It is a permanent hair colour and no other colour should be used with it. Vegetable colourants such as henna and chamomile have been used since ancient times to colour hair, and henna was particularly popular with the Ancient Egyptians. Although henna is the most widely used natural dye, others can be extracted from a wide variety of plants, including marigold petals, cloves, rhubarb stalks and even tea leaves. Natural dyes work in much the same way as semi-permanent colourants by staining the outside of the hair. However, results are variable and a residue is often left behind, making further colouring with permanent tints or bleaches inadvisable. Henna enhances natural highlights, making colour appear richer. It is available today as a powder, which is mixed with water to form a paste. The colour fades gradually but frequent applications will give a stronger, longer-lasting effect. The result that is achieved when using henna depends on the natural colour of the hair. On brunette or black hair it produces a lovely reddish glow, while lighter hair becomes a beautiful titian. Henna will not lighten, and it is not suitable for use on blonde hair. On hair that is more than 20 percent grey, white, tinted, bleached or highlighted, the resultant colour will be orange. The longer the henna is left on the hair, the more intense the result. Timings vary from one to two hours, but some women leave henna on the hair for 24 hours, anointing their heads with oil to keep the paste supple. The condition of the hair being treated is another factor that effects the intensity. The ends of long hair are always slightly lighter than the roots because they are more exposed to the sun, and henna will emphasize this effect.

The resulting colour will be darker on the roots to the mid-lengths and more vibrant from mid-lengths to the ends. It is always wise to test the henna you intend to use on a few loose hairs (the ones in your hairbrush will do), noting the length of time it takes to produce the result you want. Neutral henna can be used to add gloss and lustre to the hair without changing the colour. Mix the henna with water to a stiff paste. Stir in an egg yolk for extra conditioning, plus a little milk to help keep the paste pliable. Apply to the hair and leave for an hour before rinsing. Repeat every two to three months.
Highlights: These use bleaching agents to lighten the hair. Most home kits use caps with tiny holes and the hair is pulled through it, creating small streaks. In salons, most colorists paint the colour on strips of hair which creates a more natural look. For best results choose a kit offering this approach. They are permanent but root regrowth is not as noticeable as with permanents. Since they use bleach, they are one of the harshest home procedures and the one most likely to go wrong. Never try and highlight dark brown or black hair at home - it will just go orange. If you are looking for lighter streaks, seek out professional help. If you are suitable for home highlights, increase your chances of success by never leaving the colour on longer than directed, because your hair will snap. Neither should you take it off before it's done, you will get brassy stripes, not sun-kissed streaks.
Lowlights: These are strips of usually permanent colour applied throughout the hair that are darker than your natural colour, to create depth. Getting the right shade for lowlights is trickier than it looks, choose wrong and your hair will look dull. It is a good idea to get lowlights done professionally if you can.
2. Chamomile: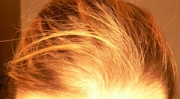 Chamomile has a gentle lightening effect on hair and is good for sun-streaking blonde and light brown hair. However, it takes several applications and a good deal of time to produce the desired effect. The advantage of chamomile over chemical bleach is that it never gives a brassy or yellow tone. Best for blonde hair, it will also gently lighten red. To make a chamomile rinse to use after shampooing, add 30m/2tbsp dried chamomile flowers to 600ml/1 pint/2 1/2 cups boiling water. Simmer for 15 minutes, strain and cool before use. For more positive results add 50g/2oz/1 cup boiling water and leave to steep for 15 minutes. Cool, simmer and strain. Stir in the juice of a fresh lemon along with 30ml/2 tbsp of a rich conditioner. Comb through the hair and leave to dry - in the sun, if possible. Finally, shampoo and condition your hair as usual.