Hair Coloring Tips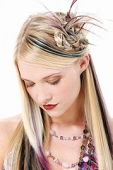 Once in a while we get bored of the same hair style and boring look. To have a new and changed look, it is best to opt for hair colouring. A new hair colour can add charisma to your personality, changing your whole outlook, making you more impressive. It is not convenient for everyone to visit a salon for hair colouring as time restriction is a big problem. You may choose another option, that is to colour your hair at home. These are a few basis tips to help you achieve the result you want while colouring the hair:
Hair Coloring Tips:

Shampoo your hair properly and then deep condition it. Wait for a couple of days, to give the natural oils in your scalp time to resurface. This is an important step to protect the scalp from chemical reactions and also would help your hair color to set better, giving you uniformed results overall.
On the day of hair color, you need to first arrange the various articles you will need for the hair coloring purpose. Put on an old shirt or blouse and collect some older towels and washcloths. Get some hair clips for sectioning your hair, a handy timer and a hand mirror, which will enable you to view the back of your head.
Section your hair in multiple partings, so that you can handle you hair better, during the coloring process. The sectioning of the hair should be accurate.
Read the instructions carefully before you start the colouring process. Each of the coloring brands follows a definite style or process, so if you don't want to make a mistake, ensure that you read the instruction. Also, do not forget the strand test.
Use gloves and start the coloring process. If you are touching up of the roots, be sure that this is the area that you concentrate on. You should not apply the colour to the entire head as it is not necessary.
To keep the dye off your skin, you could put creamy gel like Vaseline around your hairline and it's better don't get it in your hair though, or it will unnecessarily bother your hair coloring process.
For those of you, who are coloring for the first time, start at the crown or at the nape of the neck. This because it is here that the natural hair color is darkest.
For the ends of the hair, apply hair color that is one level darker, without adding the developer. The color at the ends of the hair tends to fade faster than the rest, because the ends are porous and does not hold color.
After the colour has been applied, use a timer to see how much time has gone by. Often while reading a magazine, we completely forget to keep a track of the time. So, a time would be beneficial in this case.
Hair turns gray or white when the hair shafts loses pigment. These shafts become coarser, making it more difficult to set hair colour which you want to achieve.Shampoo hair before colouring to make the coarse hair soft. Choose a color at least one shade darker than the result you expect. Keep the hair color on your hair for at least 30 minutes to see results.
When the specified time is over, rinse your hair thoroughly. Rinse, until the water runs clear, making sure no colour is left behind in the hair.
Make sure to condition your hair properly. After the coloring process, hair becomes very vulnerable to damage as colour makes the hair dry and brittle.
Conditioners that you leave in your hair often contain sunscreen and help protect your hair color from fading.
Install a water filter for your shower or bath. Besides your hair being frequently treated with chemicals, tap water coming contains undesirable elements like rust and residue that leave your new hair color flat and dull looking.
Perk up black or dark brown hair by adding one cup of dark grind coffee or espresso. Brew it and then add it to your hair and shampoo hair after half an hour.
Boil one cup of walnuts in one cup of water. Allow it to cool, strain it and then pour it on your hair. This adds sparkle to your hair. Wash hair after 30 minutes.
Brew a cup of strong tea and use it as a final rinse after shampooing. This adds highlights to dark hair.
Add 1/2 cup of cranberry juice to red hair as a final rinse, it gives highlights to the hair.
If you don't want to colour the whole hair with color, add a flash of colour up front with bold coloured bangs or make your own colour choice with just a tone or two to give your hair a hint of extraordinary colour. Deeper colors add sizzle to dark hair and blonde colors, from ash to honey, add fire to lighter colored hair.
Even when colouring hair with these organics, don't forget the colour wheel. And remember when colouring the hair, opposites donít attract Ė they neutralize each other.