Hair Restoration Techniques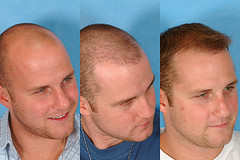 Hair restoration is a way to cure hair loss which happens over a period of time. Normally, when hair loss occurs, hair falls out and new hairs grow in their place. But when this does not happen, then baldness takes place. It is then time to think of ways to restore that hair back. Hair restoration is a procedure intended to permanently correct baldness. It is done via hair transplant, which is a surgical technique that involves moving skin containing hair follicles from one part of the body to the balding parts. The hair is removed from a certain area in the scalp and it is relocated to the bald or thinned area. This procedure is also used to restore eyelashes and eyebrows. Patients are usually eligible for the procedure when donor areas of their scalp have an adequate amount of hair for grafting. Several sessions may be required to achieve complete satisfaction. This procedure may take upto 2 years since the scalp takes month to recover from each session.
Different Hair Restoration Techniques (Surgical Methods):

As hair transplant surgery has evolved, permanent hair transplant methods have given better results. The latest permanent transplant methods, including frontal grafts and dense hair grafts, enable surgeons to restore the unique, natural hair pattern of every patient they treat.

Strip Incisions: This method was a tractional one used before the modern techniques was introduced. The strip incision involves surgically removing strips of skin from the donor area, extracting the hair follicles, and then implanting them on the recipient area. While many surgeons are practising modern method of hair transplantation, this unique method is still being used widely and effective and is quite common. The strip incision method has been improved by micrografting. Surgeons use this method as it doesn't involve any type of incision. Hair follicles are removed from the donor area and through micro grafting transplanted into the recipient area.
Follicular Unit Extraction: This method uses micro grafting to gain results. This procedure can be performed under local anaesthesia and is the removal of the hair individual hair follicle from the donor area and inserted into the hairline area. There are a number of hair transplant methods that can be used for this step. The angle of each incision is important, as it affects the direction of the hair it will grow.Single hair grafts are often used up front to give it a softer look. The advantages are that there is no scarring, less discomfort, it heals faster, no incision, no stitching, it mimics your own hair pattern, no bandages are used to keep hair in place, the look is more natural and larger amount of grafts can be transplanted at one time and with fewer sessions.


Mini - micrografting: It is very similar to follicular unit extraction, only difference is the surgeon determines the graft size. The surgeon cuts the donor tissue into the size pieces that fit. In this mini-micrografting procedure, surgeons use a multi-blade knife to quickly generate thin strips of tissue and then use direct visualization to cut the tissue. The resulting grafts are bigger than the follicle units since the excess skin is not trimmed and the donor wounds are also larger. Mini-micro grafting is cheaper in cost and does not require a big staff. Follicular unit extraction however gives a more natural result which is undetectable.
Punch Grafts: Punch grafts were used during the 80s as a cutting edge permanent hair transplant method, though the popularity of this method have lessened due to the advancement of other procedures. Punch grafts used circular grafts that were taken from a donor area and directly transplanted into an area of a patient's bald scalp. The appearance of the grafts were quite noticeable, but after a period of time, they become less noticeable.
Slit Grafts: In some parts of the recipient area, the use of dense hair graft transplants is appropriate but away from the edges. For these areas, the surgeon might use slit grafts and strip grafts.
Advantages And Disadvantages Of Hair Restoration Techniques