Salon Treatments For Men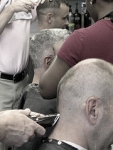 You often find men who ask themselves these questions. For example, do i want to look my best, do i want healthy great looking skin for the rest of my life, Do I want to have unwanted body hair, do i have trouble looking in the mirror and being totally happy with what I see, am I spending ridiculous amounts of money on skin care or at spas and want to find out what really works that is not't expensive, do I want to make the best first impression, do I want more confidence and a higher self-esteem? This shows men are not unlike women when it comes to taking care of every part of their body. The term "metrosexual," is known by everyone. According to most definitions, a metrosexual male refers to an urban man who is overly concerned with their appearance. Many men nowadays are frequenting salons in order to get the very best in hair treatment. Now it is very obvious that salon's are not only woman's best friends, it applies to the men as well. Men today are far more concerned about their appearance than in the past, and they are very choosy about the treatment they choose. There's no definitive date when this became popular, but around the turn of the 21st century is when men started to visit the salons. European men were the first to embark on the area of salon treatments and soon the trend started in the United States. Now, men's salon care treatments are a multi-million dollar business each year.
Popular Salon Treatments For Men:
While men are very popular for their haircuts and hairstyles, also manicures and pedicures are high priority for them. Men are also very particular about their skincare. Spa treatments and body massages are high in demand for men.

Some salons have their own franchise and often offer their labelled products to the customers for usage.
Many salons are unisex and they have a wide range of body care exclusively for men. Body treatments include skin care and facial, hair removal by either waxing or reducing it permanently through lazer, massage which is for reducing stress or relaxing a hurt back.
The services provided by the men's salon include beard shaving, head shaving, shampoo wash, dry hair treatment, head oil massage, hair dying, face bleaching, facials and hair colouring.
Facials may include the use of a facial mask. Massage for the body is a popular beauty treatment, with various techniques offering benefits to the skin (including the application of beauty products) and for increasing mental well-being and relaxation.
Facials stimulate the skin, relax the client, energize the face and restore the skin to top condition after daily exposure to the elements.
Manicure refers to a treatment for the hands, including the fingernails and cuticles and often buffing of the nails which most men do while having a manicure.
Pedicure refers to a treatment for the feet, including the toenails and the softening or removal of calluses.
Manicures and pedicures take place at nail salons.
Beauty salons offer treatments such as waxing and threading for hair removal. Some men remove part of their facial hair through threading and remove body hair by waxing method.
More On Salon Treatments For Men