Hair Style Gallery
Style Gallery, Short Hair:
Short hair is usually easier to maintain but it does need more regular cutting. It can be cut close to the shape of the head, cropped or layered in a variety of styles. Generally a short cut will make the face look thinner.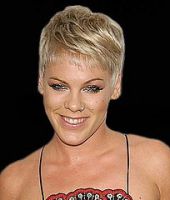 =>A short, urchin cut is good for all hair textures. Highlights give extra interest and add thickness to finer hair.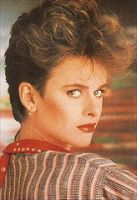 <=Thin, wavy hair was backstyled to give a bushy fringe to give the face a soft, bygone era look. The back of the head has a close crop to bring out the perfect facial features.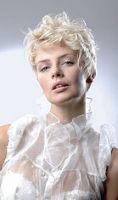 =>This short wavy hair has been given a tousled look in the front to give more volume to the hair and also the front fringe has a disproportionate bang to bring out the chiselled outlines of the face well.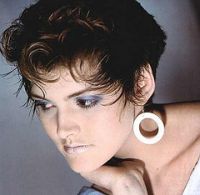 <=Fine dark hair softly layered and given an application of mousse, then ruffle-dried with the fingers to create just a little lift at the roots.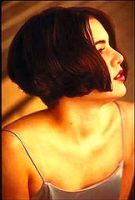 =>Medium-textured hair is given a face hugging layer cut, then blow dried using a strong-hold mousse to get lift, and finished of with a mist of shine spray for added gloss on the side bob cupping the face.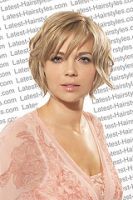 <= Medium-textured slight wavy hair is close cropped to frame face and give a softness to the face. This style was blow-dried forward to create a soft fringe (bangs), drawing attention to the eyes.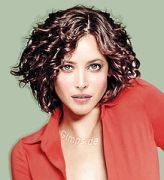 => This naturally wavy hair is given a short bob cut with a middle parting and highlighted to give more depth and sprayed with stying lotion and then set on rollers to give neat highlighted curls.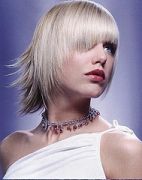 <= This close cropped assymetrical hairstyle with assymetrical fringe (bangs) is ideal for long faces with thin hair textures. The cut was then blow-dried smooth using a styling brush.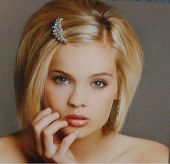 =>A hairstyle perfect for weddings and parties, this is a square cut which has been given a side parting and gently dried using mousse for additional lift and clipped up in the front to show the perfect, soft features.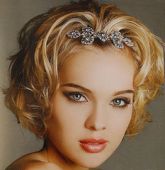 <= This layered bob was sprayed with styling lotion before pinning the fringe with a stone-studded hair pin, and then blow dried lightly to give a natural look, ideal for a party or wedding.