Hair Styling Tips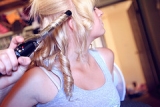 If you love your hair and want it to look its best, then styling is very important. Here are some hair styling tips you can follow::
Hair Styling Tips:

Blow drying basics: Blow-drying the hair is a good technique no matter what type of hair you have. This method adds fullness and texture to the hair, giving it a polished look. Blow dry with an attachment to help focus and reduce frizz.
Basic Parting: By changing the lining in which we part our hair, we can add new style to our hair. You can add a zig-zag or criss cross parting to your hair, making you look more interesting. A zig zag parting will look nice on hair that is thick cause the parting is better and clearer in thick hair. Criss cross parting is good for someone who has sparsely spaced,it creates an illusion of more hair on the head. A curved parting creates a asymmetrical style, and this parting looks good in swept-over styles to add style and volume. A diagonal parting can be used to direct the amount of volume in the style in one direction or another.
Curling Irons: There are different sizes, shapes and styles of irons available. There are curling irons with different sizes of barrel, and even multiple barrels on a single appliance. Multipled-barrel irons are used to create long waves, while the small barrel to create tight curls. Small barreled irons are great for styling short hair, while large barrel irons are good for long hair.
Holiday Hair: If you are on holiday and need a fast hairstyle without taking up too much time, you can create a chic chignon, use a hairband and slick your hair back, or you an innovate by wearing a hair piece with natural curls. Or if you have long curly hair, just leave it open and have the wild look.
Short Hair for Summer: Short hair styles are a perfect choice for every woman to have during summer. It can be a bob cut, curly or straight, blunt or chin length or softly layered to frame the face.
Medium Size hair: Shoulder length or medium size hair is perfect for everyone, there are beautiful straight cut or layered styles for this length.
Long Hair Style : Long hair offers many hair styles. Both men and women can have long hair styles with different styles.
Hide Cowlick: You can camouflage your cowlick and add a natural lift to your bangs by parting your hair at the cowlick.
Trim Hair: It is better to trim the hair every few weeks rather than cutting off a whole lot at one time, your hair stays in healthy condition with trimming and styling good hair will give you the results that you want.
French Braid: If your hair is long enough, there are different styles you can try out. If you want to make something without using any styling products, go in for the french braid. It looks classy.
Dutch Braid: A dutch braid is reverse of a french braid. It can be decked up with bead, jewels or flowers and it can either be casual or formal. They have a complicated look.
French Twist: The french twist is elegant, sleek and is suitable for moments like weddings, and parties.
Straightening curly hair at home: By using a hair dryer and a proper brush, you can straighten curly or wavy hair at home and achieve a straight hair style.
Hair Splits at crown area: This problem can be treated by utilizing the correct styling tools and drying the area in the opposite direction to give the hair more lift. Don't dry the hair flat to your head as it shows the split in the crown area. Instead use a vent brush to lift the hair at the scalp. If the hair is sticking up in the crown area and you have a short cut, try growing the hair longer. You should find that the weight of the hair will weigh down the crown cowlick.
Tricky Style: If you have long hair and want to have the bob cut look, make a loose ponytail, create a bob shape by pinning the edges of the hair by tucking it in and securing with pins.
Side Pony: Dress hair into a side ponytail, divide it into two sections and plait into a herringbone, taking hair from the outside into the centre, before twisting it on itself and pinning into place.
Casual Knot: Keeping it simple is the key, twist sections of hair and fashion them into loops and coils. Second day hair is easier to work with as it's less likely to slip and slide as you work it.
Hair Sticks: Hair sticks are usually sold in pairs. One hair sticks is enough to hold the updo, but the second one is used for decoration. Buns like Chinese buns, in which hair is woven around the sticks. Make a bun and hold it with the stick by first coiling the hair around the head. Then u can used the other stick for either holding the bun or for decoration, that is by pushing it through the middle of the bun.
Sassy Swirls: This is an easy look for long hair which makes lasting curls look good. Make a definite side part, through the sections with your fingers. Wrap small sections around a closed curling iron, away from the face to create loose waves.
Cropped haircut: Very short, cropped haircuts are bold, fashionable, and very easy to care for. Simple wash-and-wear cuts can look fun, spunky, and even professional without any fuss or hassle. Short hairstyles can be cut in a variety of shapes and forms to match your own facial structure and hair type.