Winter Hair Care
Homemade Winter Haircare Remedies: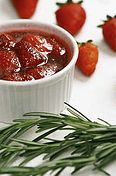 1. Strawberry Winter Pack: To make this natural recipe, you require:
1 cup crushed strawberries, half cup crushed rosemary, and one-tablespoon vinegar.
Mix the ingredients in a bowl and apply it to your hair. Cover your hair with a plastic wrap. Either blow dry your hair, or sit in the sun, allowing the pack to dry. After about 20 minutes, wash your hair. You can use this pack on colored hair or stain light hair.

2. Rose And Milk Conditioner: Boil together one cup of milk, one cup of water, and dried rose petals. Allow the mixture to cool and pour into a blender. Add a ripe avocado and two teaspoons each of honey and almond paste or non-alcoholic almond oil. Blend the ingredients together. Massage this homemade hair conditioner carefully into your hair coating the ends well. Wrap hair in plastic and rinse after 30 minutes.



3. Banana Blend Conditioner: You might want to drink this concoction, but don't! It's actually a terrific conditioner for your hair! Use this mixture once a week all year round to keep your hair soft and manageable.
Ingredients: 1/2 banana; 1/4 cantaloupe; 1 Tbsp olive oil; 1 Tbsp plain yogurt;
Method: Blend all ingredients until well combined. Apply mixture to freshly washed hair, saturating from roots to tips. Leave set for 30 minutes. Rinse with cool water.

4. Coconut Protein Hair Treatment: The protein from the eggs and the moisturizing qualities of the other ingredients will revive even the most damaged hair. Use once a week for a month, then monthly thereafter.
Ingredients: 2 eggs; 3 Tbsp coconut milk; 2 Tbsp honey; 2 Tbsp olive oil; 1 Tbsp vanilla extract;
Directions: Mix all ingredients in a bowl with a fork until combined. Apply to wet hair prior to shampooing. Allow to set for 30 minutes. Rinse well with warm water. Shampoo as usual. Try to avoid using blow dryers and other styling equipment.