Beach Makeup
When you are going to the beach, it is good to have a well scrubbed face but then you feel that your face is a bit naked. When you wear beach make-up, you usually wear a bit of colour and let your inner glow come out. Strike the right balance and apply minimum make-up for the beach outing and see yourself looking your best and ready for a day by the sea.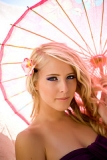 The most important thing about beach make-up is to first guard your skin against the sun. Too much of sunburn can damage the skin and you are prone to skin cancer. It is important to apply sunscreen. Use a moisturizer that is strong, with SPF and has at least factor 15. Make sure you apply it generously and if it comes off, re-apply. If you are unable to get that, then use a non greasy sunscreen after which you can apply moisturizer on the face. It is best not to apply foundation as the moisturizer and the sunscreen makes the face greasy, then the face remains sticky the whole day. And if you happen to get into water, the face turns out to look blotchy and it also guards the sun to get to your face, and you will end up with a tanned body and white face.
Dab a little of silicon based primer on your eyelids and lips. This makes your eye make-up and lip colour to last longer.
You can apply bronzer in place of foundation cause in this case, if you get into the water, your skin wont come out blotchy. It should be applied on your cheeks where the sun would get in. It can be wiped off and reapplied as it is easy.Apply it upwards from the cheekbones towards the temple.
It is difficult to find a waterproof eyeliner, so you can experiment and make one of your own. Take the tip of any ordinary liquid eyeliner, then take a tissue and wipe off all the liquid from the brush, dip it into waterproof mascara and apply as eyeliner on the eyelids. There, your waterproof eyeliner is ready to use for outdoor.
Now you can apply your waterproof mascara over your lashes.
Now about your lip colour. Using a lip liner and a lipstick is not needed. Just use a lip gloss that should suffice for the day. If you prefer using a lipstick, then you can use a nude or a light pink that will be more than enough. You can also use a tinted lip conditioner stick with SPF properties in it to keep the lips smooth and hydrated and safe from the sun.
The nail varnish can be can be pearly, red or any colour that you desire.
More On Beach Makeup