Bridal Makeup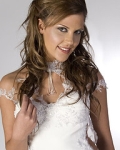 Marriage is a one time occasion in a woman's life and she wants to look her very best. Its a perfect occasion and a perfect day and the perfect make-up would make the day complete for the bride. Bridal make-up normally is done by professionals but there is nothing like doing your own make-up, that is if you know how to undertake this task and do it correctly. Look enchantingly beautiful on your wedding day with make-up that adds radiance to your face, stays put under pressure and looks like second skin. With all eyes on you, use these tips to glow unabashedly all day long. Most of us are traditionalists when it comes to dressing up and wearing make-up on our wedding day. we prefer to go out with the typical red and orange make-up and most often end up looking patchy in our wedding photos. Professional dress you according to your preferences and wants. Make-up is chosen according to the bridal wear, her features and structure, etc. Sometimes a trial session is given to the bride and different themes of make-up are tried to correct the make-up and settle on one.
Bridal Make-up Guide:

Glistening skin: The first rule of this season's bridal make-up is to have clear, glowing skin that is free of layers of foundations and pancake. If you have been taking good care of your skin at least three weeks prior to the day, then this shouldn't be a problem. Using very little base and a little concealer to hide blemishes or a shadow on your skin is suggested. You need to play up your own complexion. Make sure that when you are hiding dark circles, the concealer should blend in with the colour of your cheeks. Instead of a heavy foundation, use a make-up primer to give your face a clear sheen. Your face needs to be well moisturized, that will ensure that the make-up stays long. Put on a gentle smoothing moisturizer at least five minutes before you start make-up. Let it soak in and then gently wipe off with a tissue. Then put on a light base on your face. You can dust some silver shimmer powder on your cheekbones and temples to create a radiant face.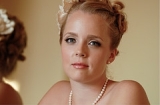 Pink Cheeks: Since you need to look fresh throughout the ceremony, a subtle pink blush is the best way to go. Many brides like to use red blush on their cheeks that matches their outfits, that is a big no-no. It makes for a garish bride, now you don't want that. A light shimmery pink blush high on the apple of your cheeks will look like a natural flush, a sign of health. It also looks young. There's nothing like a subtle pink hue to make you look bright.

Big Lashes: Big well-defined lashes look both innocent and alluring. However, avoid the thickly lashed look. Stick individual hair at a certain distance on your upper lashes. Then brush on a lengthening mascara to enhance the look. This also looks more natural and opens up your eyes very nicely.

Cat's Eyes: There's nothing catty about this look. All you need to do is draw a line with a liquid liner from the inner corner of your eyes, extending it beyond the outer corner, taking it slightly upward to bring out your eyes. Thicken the line as you move outwards and upwards. Dust shimmery beige, pink or peach shadow over the rest of your lid. You don't need too much eye make-up if you go for this. It is a classic look that enhances most eye shapes.

Smoky Brown Eyes: If you are a non-conformist and are having a night wedding, then you can try the smoky-eyed look but with brown instead of black. Chocolate brown is the new black for the season and looks wonderful on Indian skin. A matte chocolate brown shadow offset by a pearly light pink shadow looks amazing on Asian girls. It adds intensity to your eyes and complexion. Just sweep the dark brown over your upper lid till the crease and blend in a pearly powder pink over your brow bone. Finally, add a dash of shimmery beige at the outer corner and blend in for a perfect smoky look.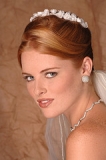 Bold Lips: Bright plum lips with a hint of gold looks stunning on a bride. You can also try brick red for the same effect. Don't apply with a brush, instead smudge it in the centre with your finger to look like a stain. It looks sensual yet innocent as if you have been sucking on cherries. However, don't go for glossy texture, instead pick a lipstick that has a creamy matte texture. But if you have played up your eyes, then you can try a glossy pink or peach lipstick for a subtle glow.

Gilt Edge: Gold has always been a favourite bridal colour and it is no different this season. Use gold to highlight one feature of your face. Putting a little gold eye shadow on the inner corner of your eyes will look good, even line your lower lashes with a gold liner. Or dab bit of gold gloss over your lipstick.

Vibrant Nails: While shell pinks and French manicures are safe bets for brides, you can play up your bold side by doing up your nails. Sign up with a nail art salon and get little diamante attached to the tips of your plum or burgundy coloured nails.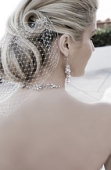 You can even try reverse French manicure, where the tips are a bright red, brown or wine and the base of your nail is painted in beige, shell pink and white.

Braided Lengths: Braids are very hot for bridal hair this season. You can either use your own hair or hair switches to attach braids to your hair. They can be used to circle your low bun or swing till your waist from a high bun. Wrap some fresh flowers for a day wedding or pin some diamante pins through your braid and updo to get glittering hair for a night wedding.
More Bridal Makeup - The Bride's Emergency Kit