All About Brushes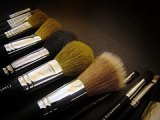 Even the most expensive make-up in the world won't look particularly great if it's applied carelessly and using your fingertips. So, it is not your make-up that is letting you down but how you are applying it. While applying it with fingers, sometimes you tend to get sloppy. Various plastic applicators and flimsy sponges included in many make up compacts will never deliver the sheer, precise magic that make up tools do. Forgo the basic freebie for a better quality tool that will last a lifetime.
Types Of Makeup Brushes:
For a professional finish you need the right tools. This means investing in a set of good brushes and applicators.
1. Make Up Sponge: Have a wedge-shaped one, so you can use the finer edges to help blend in foundation round your nose and jawline, and the flatter edges for the cheeks, forehead and chin. However, if you prefer not to use a synthetic sponge try the small, natural ones instead. Remember to use it damp, not dry.
2. Powder Brush: Get used to using a sponge each time you put make-up on. To prevent a caked or clogged finish to your face powder, use a large, soft brush away any excess. A foundation brush sweeps on a thinner coating for more natural, seamless-looking foundation no matter how heavy the coverage. It also slips easily into tight spaces around the nose and eyes. Wash this brush weekly.
3. Blusher Brush: Use to add a pretty glow to your skin with a light dusting of powder blusher. A blusher brush is slightly smaller than a powder brush to make it easier to control. It gives colour to the cheeks in a very natural-looking way that is hard to replicate with fingers. It can also be used to sweep powder over the face but ensure you have tapped away any residual blush first. A full round head of bristles makes applying blush a breeze. Don't brush in concentric circles, a pop of colour on the cheekbones is all you need for a natural, flattering flush. Remember to wash this brush regularly.
4. Concealer Brush: This should be tapered in the corners and square headed and ideal for blending. It has a long handle, heavy weight and is gives good application precision.
5. Foundation Brush: This brush is large and wide. It has a tapered flat head, good for liquid or cream foundations.
6. Slanted Brush: This is a narrow angled flat headed brush with soft yet firm bristles. This is used for the application of fine lines close to the lash line, blending and softening the colour. It can be used to apply powder to the brows.
7. Eyeshadow Brush: Smooth on any shade of eyeshadow with this brush.
8. Eyeshadow Sponge: A sponge applicator is great for applying a sweep of pale eyeshadow that doesn't need much blending, or for applying highlighter to your brow bones. An eyeshadow should be blunt at the tip, soft and full. This helps with blending and even application. Choose natural fibres where possible. The most useful eye shadow brush you can own is a wide soft-bristle one that will sweep colour over the entire lid without irritating the delicate eye area. To smudge, line, or contour your eye shadow, buy a brush designed specially for that task.
9. All In One Eyelash Brush / Comb: Great for combing through your lashes between coats of mascara for a clump-free finish. Flip the comb over and use the brush side to sweep your eyebrows into shape, or soften pencilled-in brows.
10. Lip Brush: Create a perfect outline and then use it to fill in the shape with your lipstick.
11. Eyebrow Tweezers: It is essential to have a good pair of tweezers for regularly tidying up the eyebrows.
12. Eyelash Curlers: Once used, they will soon become a beauty essential. Curlier eyelashes make a huge difference to the way your lashes look and help open up the eyes.
Tips On Brushes