Quick Fix Evening Makeup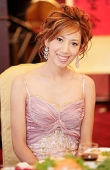 When you are going for a night out, you should always put your best face forward. Most will agree when you say that applying make up is the same both when you are applying for the day and the night. Night make up should be more dramatic and you can do it first by removing your day time make up by cleaning up your face. Some people just touch up their day time make up by adding a few more strokes. While applying evening make up, emphasis should be given on the eyes or the lips. It is advisable to apply concealer or foundation under the eyes or apply a night time special foundation in a darker shade, finishing it off with pressed powder.
Tools Required For Evening Make Up:

Blush
Concealer
Blush brush
Eye shadow
Lip balm
Lip liners
Facial tissues
Face powder
Cotton swabs
Foundation
Shimmery powders.
Dazzling Evening Makeup In Six Steps:
Follow these six quick steps to achieve a striking elegant look in just five minutes. When you are in a hurry, there is no time to experiment with new ideas, so the key to a successful quick-fix is to choose simple styles, applied with the minimum of fuss - so here you have straightforward steps to a stunning look.
1. Five Minutes To Go: The all-in-one foundation/powder formulations give your skin the medium coverage it needs for this look in half the normal time. Also, take it over your lips and eyelids as this will make the rest of your make-up easier to apply and ensure it lasts the whole evening.


2. Four Minutes To Go: Cream eye shadow applied straight from the stick is quick and easy to apply. Opt for a brown shade as it will bring out the colour of your eyes, and give them a sexy, sultry finish. Slick it over your entire eyelid, right up to the crease of the eye socket.
3. Three And Half Minutes To Go: A swift way to blend in your eye shadow is to brush over the top with a layer of translucent loose powder. This will tone down the colour and blend away any harsh edges.
4. Two And A Half Minute To Go: Apply a coat of mascara to your lashes, taking care to colour your lower lashes as well as your upper ones. Use the tip of the mascara wand to coat the lower lashes, as this will prevent it from clogging on the hairs - and prevent you from spending valuable time having to use an eyelash comb.
5. One And A Half Minutes To Go: A warm berry red blusher will give your skin a fabulous flush. Apply it with a blusher brush, sweeping it from your cheeks up towards your eyes to give your face a lift.
6. Thirty Seconds To Go: Choose a berry shade of lip gloss to add instant bold colour to your lips, sweeping it straight on with the sponge-tipped applicator. Cover your lower lip first, then press your lips together to transfer some of the colour on to your upper lip. Touch up any areas you have missed with the applicator, and you are ready to go.
Quick Evening Makeup Tips