Over - Plucked Eyebrows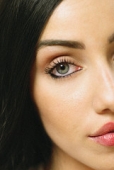 There is no magical wand which can fix over plucked eyebrows, there are many treatments which claim to grow thin eyebrows back to normal immediately but they all don't work and if they do, it involves a lot of chemicals are the treatment is very expensive. While plucking eyebrows, you should be careful as it doesn't grow back overnight, it helps to give the face a different look, so a correct technique should be used. One beauty task that women have difficulty to tame is plucking of their eyebrows. This is to take tweezers and pluck out the stray hairs that stick out giving the eyebrows a funny shape. But what happens at times, we get carried away and keep pulling out the brow hairs, thinking we are shaping the brows. The results are poorly shaped and uneven eyebrows.
Why Do We Pluck Eyebrows:
Women shape their eyebrows to create a particular shape to their face, some fill in their eyebrows as they are too thin and some draw lines to enhance their features. Shaping the eyebrows is very crucial and if your eyebrows are coarse, then maintaining the same shape can be difficult as they grow haywire.
How To Pluck Eyebrows Right:
Well plucked eyebrows make your face seem more groomed. Most of the women, not leaving out the men, have their eyebrows groomed by professionals. But determining the shape of the eyebrows is the most important. If you are doing it at home, just pluck where the hair grows extra. Here is how to do a proper eyebrow grooming.

The most common mistake we make while doing eyebrows is we pluck off more than required. You should remember that it takes months for the eyebrows to grow back and if you pluck extra, then your eyebrows are ruined. The space between your brows should be equal to or a little wider than your eyes. Take a long eye shadow pencil and hold it parallel to the side of the nose. You should begin where the brush meets your brow.
Use the brush again to find the end of your brow by extending the brush diagonally from your nostril, following the outside edge of your eye, towards the direction of the brow. Your brow should end where the inside of the brush reaches.
Brows look their best when they are arched. To find your arch, hold the brush parallel to the outside coloured part of your eye. The highest part of your brow is where the brush meets the brow.
The skin should be smooth when you are plucking your brows as this will avoid cuts and bruises. So cleanse your skin before you under take plucking.
Use a good quality tweezers with a slanted edge and make sure that the edge is not pointed as that might cause skin pinching.
Hold the skin tight while plucking. And always pluck in the direction of the hair growth. Do not pull out too many hairs at one time.
You can tweeze both the bottom and top of the brows to get proper shape.
Before you move with your tweezers too fast, stop after every short while to make sure you are not over plucking as hairs take a very long time to grow back. Once you yank them out, they might not even grow back.
As you finish plucking your eyebrows, you can apply cotton dipped in cold water, then apply a moisturizing or cold cream, this will give you relief if the process was painful and if there is redness, the cream will take care of it.
How To Camouflage Over Plucked Eyebrows With Makeup