Eye Impact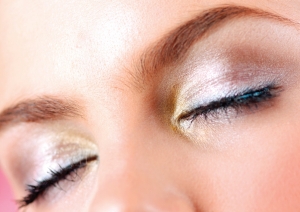 What's the best eyeshadow for fair skin tones? Is it possible to 'fix' droopy eyes? How can you make your eyes look bigger and brighter? Read on for expert solutions to make the best of "the mirrors of your soul".
1. Eye Spy - Wheatish Skin: If you look closely at wheatish skin, you'll notice pigments of yellow and caramel. While most shades look good with these tones, nothing quite makes an impact like deep shade of warm colors.
-- Some shades you must add to your makeup kit: brown, rust, gold, olive green and orange. These hues will neutralise the yellow in your skin and add a pinch of youthful color.


-- Got a special do to attend? Pick a deep, midnight blue for your eyes - the color looks gorgeous on your skin tone. Support the dramatic eye color with two coats of mascara and a nude lipstick.
2. Eye Spy - Dusky Skin: If you're dark skinned, you're in luck - intense eye shades look fabulous on you. Aim for the deepest, warmest shae of any color and top with the darkest, inkiest mascara to show off your lashes.


-- Your skin tone probably has shades of red, plum, blue and brown, so eyeshadows in these colors promise to really bring out your eyes. Shimmery shades also look great on you, but pick matte if you have developed a hint of wrinkles around your eyes - frosty only highlights wrinkles, making them more noticeable.
3. Eye Spy - Fair Skin: The strong contrast between your hair and skin means that dramatic make-ups look great on you. In fact, there's a skin coloring that can really carry off bright eyes, it's yours.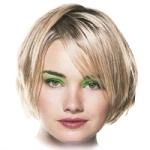 -- While the shades in your skin tone (usually pinks, ivories and blues) make great eyeshadow hues, contrasts such as green, blacks, oranges and plums make a better impact. Just one word of advice: Drop your black kohl and mascara in favor of dark brown - the color looks less severe (and younger) on your skin tone.
4. Eye Spy - Small Eyes: If you've always longed for bigger eyes, here's good new: a few expert tricks are all it takes to maximise your gaze!

-- The secret to creating the illusion of bigger eyes: shimmery, light-hued eyeshadows (dark colors are minimising). First, sweep a light eyeshadow over the lid (beige, silver and gold are good picks). Next, line the upper lid with an eyeliner, making sure to taper a little outside the line. Then - and this step is crucial - line only half the lower lid, moving from the middle to the end. Lining it all the way will 'enclose' the eye, making it look smaller. Finish by lining the inner rim of your eyes with a white pencil and applying two coats of mascara for a truly 'eye-opening' effect.
5. Eye Spy - Droopy Eyes: Flat eyelids with no obvious crease can make eyes look smaller overall. But there' hope yet: It is possible to lift downturned eyes with some clever make-up tricks.
-- You can create the illusion of lifted eyes by simulating the eye's crease depth - dust a light shadow over your eyelid, then swipe a slightly darker hue a quarter of an inch above your lash line.
-- Line your upper lid with an eyeliner, extending the color up and out in the shape of a feline eye. Enlist the help of a dark mascara, concentrating on the inner corner of the eye, and finish by smudging a silver shadow in the inner corners of your eyes to help "lift" them.