Lip Makeup
Step By Step To Perfect Lips:


Follow the simple guide to apply a perfect layer of luscious colour to your lips.

Ensure your lips are soft and supple by smoothing over some lipsalve before you start.
Prime your lips with foundation, using a make-up sponge so you reach every crevice on the surface.
Lightly dust over the top of the foundation with your usual face powder,to ensure your lipstick will stay put for longer.
Rest your elbow on a firm surface and draw an outline with a lip pencil. Start with a Cupid's bow on the upper lip, draw an outline on your lower lip.
Use a lip brush to fill the outline with lipstick, this helps get a more precise definition. Open your mouth to brush the colour into the corners of your lips.
You will make your lipstick last longer if you blot over the surface with a tissue. It will also give an attractive, semi-matte finish to your lips.
How To Change The Shape Of Your Lips:
Since it is a known fact that full and sensuous lips are the more desirable by all, using a few tricks will change your lip shape and can fill out to make it a pout. To give fine lips a fuller effect, use a soft thin brown lip pencil to draw gently above the natural lip line. Follow this with a lip pencil the same colour as your lipstick to draw over the natural lip line. By gently blending with your finger you can bring these lines together. Apply loose powder on your lips then apply lipstick. A person with full lips should stick to neutral colours and focus more on using colour on the eyes. If your lips are uneven then use a concealer to even them out. Outline the lips with a natural colour lip liner and pat with translucent powder to seal the concealer. Apply lipstick.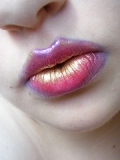 Big Lips: If you find that your lips are too big, then it is time to minimize it. Outline them within the edge of your lips with a lip pencil. Start at the centre of the upper lip and stroke down towards each other. Now apply the same method for the lower lip. Put a lighter shade than the liner used and fill the lips, start at the centre and work out towards the corners.
For Even Lips: Dont try and create a totally fake lip line - it will probably go wonky. Instead use foundation over the lips as before, then draw along the outer edge of the lip line on the smaller lip and either just under or along the line of the bigger . Fill in the whole lip with liner so you are not left with tell-tale lines if your lipstick wears away.
For A Sheer Natural Nude Lip Makeup:
Skip the liner and apply your lipstick direct to the lips with a brush or for a longer-lasting look, choose a liner the same shade as your lips and apply this all over. Top with a sheer lip gloss.
How To Choose Lipsticks As Per Skin Tone