Lip Makeup
Top 5 Tips For Lips: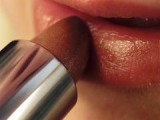 If you decide a lipstick is too bright for you once you have got it on - but scrubbing it off will ruin your foundation - mix a little foundation with Vaseline and smear this over the shade with your fingertip to mute it.
For emergency rehydration, pierce a vitamin E capsule, squeeze out the contents and apply to lips.
If your lip gloss is too gooey, run an ice cube over your lips. It will keep the shine, but stop that sticky sensation.
Dark, matt lipsticks sometimes stain the lips. If this happens, rub the lips with olive oil.
Lip (and tooth) brushes should be washed after contact with cold sores - or even when you have a cold - as they can reinfect you.
Top 5 Color Tricks For Lips:


Orangey red lipsticks will highlight yellowy teeth, while bluey reds make them look whiter.
Light shades - particularly shimmery or frosted ones - will make lips look bigger.
Dark shades or very matt colours will make lips look smaller.
If you are fairly tanned you should choose a slightly darker shade of lipstick than you would without your tan or you can look washed out.
Using sheer lipsticks and lip stains is an ideal way for the nervous to branch out into deep shades like plums, raisins and reds.