Make Up Basics
Inspirational Ideas: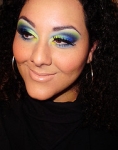 Sometimes make-up should be used just for the sheer fun of it. Try out a different look for a special occasion, bringing out the make-up artist in you. Whether you want to create an impact in the office or turn heads at a party, there are lots of ideas to help you put on the perfect face. Every woman can use make-up to emphasize her best features.
How To Reassess Your Image:
Take a careful look at your make-up bag or drawer. How old are the cosmetics? Six months, a year or more? Now study your face when you are wearing your usual make-up, and ask yourself what your make-up does for you: does it widen or narrow your eyes or mouth, enhance the shape of your face, make you look younger or older? if it does not produce the effect you require and your cosmetics are more than a year old, it is time for a complete change. Bear these points in mind:

Your age: We are all different. What works for one woman may not work for another. Understanding this helps you to bring out the best in yourself. Make-up that suited you when you were 25 is not going to look right 10 years down the line. Changes in skin tone and texture, as well as in hair colour, require different make-up shades and textures: the right make-up can take years off your face.
Your face shape and skin tone: Make-up can improve face shape by illusion; it can also improve skin tone and texture. To determine your skin tone, look at the inside of your wrist, while holding it over a piece of white paper. Is the skin a shade of white, pink, blue or grey (which means you have a cool skin tone and need cool shades), or yellow or brown (which means you have a warm skin tone and need warm shades)?
Your eye colour and size: Take a close look at your face while you are washing or getting ready for bed. Which features would you like to enhance? Which would you like to play down? Deftly applied make-up can make small eyes look bigger, blue eyes look bluer and round eyes look longer; can your current make-up do this for you?
Your hair colour: Make-up should complement hair; if your hair is jet black and your skin pale, deep red lipstick and black eye make-up (mascara and kohl) look stunning. If you are blonde, earthy tones look best (the bright colours can be a bit brassy). If you have brown or black hair, you will have almost limitless colour freedom. Now if you a good idea of colours that suit you, it is important to work out what make-up colours and styles work best for you.
Your lifestyle: Make make-up easy; there is no point choosing make-up that requires a great deal of time to apply properly if you have a very busy lifestyle.
Brush Up Your Techniques:
Don't just read about them but actually put new ideas into practice. Brush up on tips and tricks to help you maximize your looks, and deal with your own particular beauty needs. Perhaps you need a new look on a budget, speedy ideas or some expert help. The main thing is to spend a little time on making the most of yourself. Flawless make-up lies in the technique of using the right tools to give the perfect look.