Caring For Your Makeup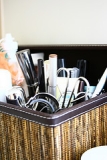 Majority of the people use make-up, irrespective of the gender. Everyone uses make-up to look good and enhance their beauty. So if you are using something on a regular basis, then you should make sure to take care of that. Keeping your make-up in good condition is very important as you know that skin is very delicate and if proper care is not taken, then you can get an infection of suffer from skin inflammation. Whatever brand of cosmetics you buy, make sure to take care of it. Here are some tips that you can use to take care of your cosmetics.
Makeup Care:

1. Replace Old Cosmetics: When make up gets old, it has to be thrown away and replaced with new ones. Generally, cosmetics too have a life span and it differs. Change your cosmetics every six months or so, even if you have to dig into your pockets and spend extra at times. If you use what is left of the cosmetics after six months, there are chances that it will be contaminated. Even if the make-up is exposed to air when it is being opened to be used can cause bacteria to form in it and that can cause face blemishes. Keep a track by marking the date of purchase on your cosmetic containers and change make-up products regularly.
2. Clean Hands To Apply Make Up: Before you are going to apply make-up, wash your hands with a mild soap and then use a sanitizer. Germs are easily attracted to the hands as we use our hands to touch things. Take a soft cloth and make-up remover, and take make up off gently, taking extra care around the eyes and nose. Wipe off any residue that remain on the make-up containers. Clean out the drawer or shelf of pouch where the make-up is kept, it should be squeaky clean.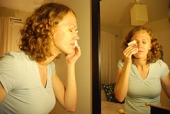 3. Remove Residue: Don't go to bed with make up on your face, that is the worst thing you could do to damage your skin. Especially if it is waterproof make up which is difficult to remove, that will smear on your pillow and give your skin irritation. Remove all the make-up, including the eyes, lips, cheeks, etc, then use a moisturizer to keep the skin hydrated the whole night.
4. Keep Containers Tightened: Do not leave any make-up container open unless you are using it. If by chance, it does fall down and dirt gets in, it is better to discard it and buy another one as it might lead to contamination and affect the skin on the face.
5. Don't Share Make Up: Do not even think of borrowing make up from a friend or sister, and neither lend. Contamination and germs spread faster when make up is shared. Carry an extra lipstick or lip liner or kohl pencil, so if one is spoilt, you don't have to borrow.
Caring For Your Makeup