Choosing The Correct Foundation For Your Skin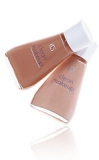 This is the most important tool in your make-up kit. Foundations form the base of your make-up. So why does this give women so much of stress when it gives us flawless skin. It is because all women are not created equal and with the different types of foundations, shades and brands, it becomes difficult to make a choice and that gives women a headache. Foundations come in different shades. But the foundation that you use should be the one close to your skin tone. Foundations come in cool, neutral and warm tones. Usually cool colour means pink, neutral means yellow to beige and warm means orange. Make up foundation can be applied on the face as well as the neck. Foundations are the base of make-up and are applied to give a smooth look to the skin, hiding all the scars and blemishes which are otherwise visible. Foundations come in various forms. They can be creams, emulsions, liquids, cakes, powders, water proof and spray foundations.
Understanding Your Skin Type:
First of all, recognize your skin type, only when you are clear about that, then proceed to buy.
If your skin is normal, then you should have: An even complexion, face should not have much lines and wrinkles, have few pimples not much, pores will be small and the skin wont be either too oily or too greasy.
If your skin is dry, then you should have: Face will be rough and flaky, pores wont be noticeable, skin will be tight and there will be many lines and wrinkles.
If your skin is oily, then you should have: Eruptions on the forehead, chin, nose and cheeks, pores are enlarged, T - zone is oily and skin on the cheeks are dry.
Choosing The Correct Foundation: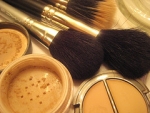 To see which shade suits you the best, try by using each colour on the side of your jawline, you will see that the colour disappears into your skin. The one that disappears the most is the colour most suitable for your skin tone.
Remember two things while choosing a foundation, the colour and the form. Some forms are good for some skin type and some forms are not suitable. If you have dry skin type, then use the oil based foundation, it will give moisture to the skin.
Keep your age and condition of your skin in mind while using a foundation. If your skin is good, then a thin foundation is required. For aged skin, liquid foundation is the best. If the condition of the skin is bad, then use heavier foundation, it will give the face a better and smoother appearance.
Powdered foundation is good for oily skin as it blots out the oil and controls shine. Compact powder have been formulated as they contain a certain amount of foundation and they can be used during the day to touch up your make-up, keeping it fresh and long lasting.
Some foundation do not last for long due to the weather conditions, like in summer, the humidity is high, and we tend to perspire a lot due to which our make-up runs and it becomes messy. So in this case, use water proof foundation. It does great for your skin and even despite sweating, it keeps the make-up in good condition.
More Tips On Choosing The Correct Foundation