Hair Make - Up Tips
Most women have favoured long lustrous locks. And a sassy chick like you should not have to go short just to sport a funky do. Length is in. There are lots of options for long-haired ladies like you who refuses to sacrifice length for style. Before going in for a drastic change with long hair it makes sense to discuss the kind of haircut you want with your stylist. Everyone notices your hair first. Put your best self forward and try a new hairdo. Many people do not know what to do with their hair. Sometimes all it takes is a few make up and hair tricks to reveal the stunner within. Here are some tips to give you inspiration and advice about what to do with your hair.
Different Accesories For Hair: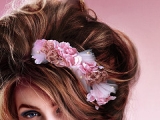 Use traditional sequins by weaving it into your braid and pinning the braid on top of your hair like a band.
Give an ethnic twist to classic pearl. Back comb the crown hair to give volume and then tie it up in a bun. Use a string of pearls as a hair band with the ends pinned below the bun.
Add spark to the boring old French twist by tying the hair ends near one ear and teasing the tips. Jazz up with a beautiful traditional hair clip.
Work up movie-glam curls and fix with a dismantle clip.
For a dramatic look, tease the crown hair and pin it up high in the front. Now tie a ponytail at the back. A diamante clip makes everything prettier.
Get a haute party ponytail by tying your hair up high, on top of your head, and covering it up with a sequinned scarf.
Give an ethno twist to the Princess hairstyle with two hair buns on either side of your head. Add some pearly hair clips and ribbons for some Indian glory.
Other Ways Of Hair Makeup:

Funk It Up: If your lifestyle and profession allow it, you could go in for a really funky hairstyle, with length. A really fun funky haircut which has visible disconnections. Here each layer has a visibly distance length, with the crown layers much shorter than the layers at the perimeter. The visible disconnetions give your long hair an edgy, fashionable look. Use the right kind of anti-frizz product and leave in conditioner is a must for curly hair.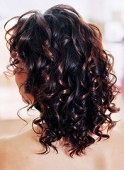 Get The Color Qoutient: While a great cut alone can add the funk factor to your hair, crank it up completely with vibrant colour. Colours can emphasis a haircut and bring out the layers that have been cut into the length. To play up an already funky haircut, with visible or invisible disconnections, it is better to go for slightly louder colours and brighter shades of reds and browns. Dual colouring with mahogany and red will give long glamorous layers a classy look, while those with curly hair would do best with highlights and streaks that could be chunky pieces or think streaks.
Style It Right: Styling long hair can be very interesting with minimal effort. If you have slight waves and a lot of layers cut into the hair, use a curl saver mousse and let the hair dry naturally. Don't run a comb or brush through the hair once it has settled. This is a great look for a casual night out. If you have long hair, a curling iron or heated rollers work well to give soft curls. Add serum for shine.
More Hair Makeup Tips