Makeup Tips To Highlight Your Best Feature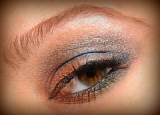 Beauty and beautiful looks comes in all shapes and sizes. It can be eyes, nose, lips, or your mouth. Highlight it with make-up and make it more attractive. A natural look is the best when it comes to make-up. Many of us think we are perfect but each human being are not born without some flaw or the other. We may feel very confident about the way we look but cannot over look our flaws. So what we can do is rectify it and we can do it with the means of clever make-up. Another thing to remember is not only to think about the flaw but think about bringing out the best feature or highlighting the focal point on your face so that it looks at its best and the flaw will not be noticed. Do not be afraid to use make-up to highlight your feature. Chances are that out of all your features, you can have one beautiful one, so why not let everyone see your gorgeous asset. All it needs is a little effort and skill, with a little experiment, to look good the natural way.
Tips To Highlight:
Here are some tips to make your best feature more noticeable:

1. Eyes: As it is said that eyes are the window of the soul, so dress up your eyes if they are your best feature. Use eye shadow which matches your complexion, not your clothes. Use an eye colour which matches and compliments your eye colour. If you have blue eyes, you can wear brown, plum, gold, peach or grey colour eye shadow. If your eyes are green or hazel, then you should wear purple eye colour. If your eyes are brown, then wear green or bronze eye colour. Do a sample test on yourself with different colours and see which colour suits you the best. Use separate colour combination for night as well as for day. To give your eyes dimension, use a combination of two to three colours. A common blunder that most people make is they colour they eyes with so much of eye shadow, that sometimes you can barely find the eyes. So, don't hide your eyes, flaunt it by carefully applying make-up. Water proof mascara is very good for your eyes and good for occasions like weddings, parties and maybe your graduation. But it is not good for everyday wear as it weakens the eyelashes and they fall off. Do not rub your eyes while you wear waterproof mascara, this also causes bacteria and wrinkles. Take care of your eyes by attending to your eye brows at least once a week. Use an eye make-up remover to remove make-up residue, use with a cotton ball gently. Use rosewater to wash eyes regularly, they give a sparkle to the eyes.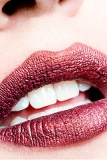 2. Lips: Lips look good when you make them look good. If you have pouty lips, flaunt them. Make them kissable and attractive. Use lip balm and sunscreen and always keep them moisturized, especially during winter, when that is the time the lips crack the most. Being a very sensitive area of the face, use a moisturizer when you are removing your lipstick. Apply a lip liner and then fill with gloss or lipstick. If you are in a party, make sure that you re-check your make-up in intervals to make sure that your lip liner and lipstick is intact, and re-apply if necessary. Gloss makes the lips look very shiny and glamorous. Refrain from using cheap brands as they discolour the lips. To make lips look naturally beautiful, use a nude or pink colour lip colour, and complete the look with lip gloss.

3. Cheeks: If you have good cheeks, use blusher to highlight them the proper way. You get blusher kits with the brushes inclusive, those are not suitable for application of blusher if you want good results. Take a big blusher brush, rub it onto the apples of your cheeks by smiling in the mirror and rubbing upwards till you have blended it. Adding a little shimmer over the blusher will completely change your look from ordinary to beautiful. Another way to add bronzer to the cheeks is to use a bronzer on the bottom portion of your cheeks and to shade that area suck in your cheeks and using an upward motion use the brush. The idea is to get a definition through shading. Then use a highlighter and apply to the top of your cheekbones, n the same upward motion. Blush the apples of your cheeks but do not over brush it with colour as it will spoil the shading effect.
More Tips On Highlighting Your Best Feature