Makeup As Per Look
There are a range of make-up looks designed to suit different occasions and environments, from the office to a dressy evening function. Every woman can use make-up to enhance her looks but individual make-up needs will differ from woman to woman.
1. Natural Look: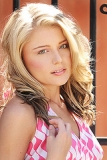 This does not mean going out without make-up, it just means using make-up by making choices that enhance what nature has given you.

Apply moisturizer and conceal any obvious blemishes. If your skin is good, don't use foundation, merely apply loose powder. But if you still prefer to use foundation, apply it with a damp sponge as this will give you a soft look and a dewy sheen. Apply blusher to the apples of your cheeks.
Using an eyeshadow brush, sweep a soft pink or tawny-brown (almost blush-coloured) shadow across your lid and in the socket crease. This should not be a solid colour, just a slight brightening of the eye area. The key to the look is to shade only a line around the upper lashes and underneath the outer corner of the eye with a medium shade eyeshadow. Eyes play an important part in a look, too bare and you will look unmade, and it will seem as if you have forgotten to apply the whole make-up. Too much make-up and it will seem as if the rest of you is incomplete. Smudge this so its very soft and apply brown or brown black mascara.
Apply a lipstick one shade darker than your natural lip colour, a matte lipstick or a chubby lip pencil.
2. Five Minute Work Look: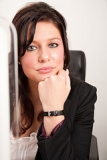 If you are running late or just lazing about. You can do a quick speedy make-up.

Apply foundation or just put concealer on any obvious blemishes and to cover any under-eye shadows.
Use a natural eyeshadow in taupe, beige or dove grey across your eyelid.
Apply two coats of mascara.
Apply blusher to the apple of your cheeks to create an instant glow.
Shade your lips with a chunky lip pencil in a nude or rose-pink shade. This gives you precise lines and long-lasting colour in seconds..
More Makeup As Per Look