Make Up Tips For Different Occasions
Make-up is used to enhance one's features and when it is applied with a sensitive touch it creates a subtle emphasis, rather than a mask disguising the features. It is not difficult to apply make-up as long as you are aware for which occasion you are wearing it. While choosing the make-up for an event, takes time and preparation, your choice is made simple when you are aware of the occasion. Make-up requirements are different for different occasions. If the occasion is known, then it will be an easy affair to apply it without taking time and accurately.
1. Party Makeup: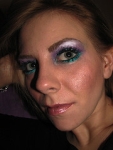 Party is a time to let your hair down, be bold and have a great time. It is not everyday that you get this opportunity to get out your glitzy party wear and make-up. Festive occasions are special so you will want to look your best by enhancing yourself and looking sophisticated. Here are some tips:

First of all, clean your face. Then apply some oil free moisturizer with some illuminator by first rubbing it in your hands thoroughly, then apply to the face. Keep it on for few minutes for the skin to absorb the moisturizer. Then apply foundation over your face, blend it properly and dust loose translucent powder all over. Then use a big brush to remove excess from the face.
Use a lighter shade of foundation than the usual one for a party or night out. It gives the eyes and lips to be the main focus. Also, light shade of foundation can help your face get noticed in a dim lit room. Apply dark shades of make-up for the eyes and the lips to give it that party or festive look and a contrast to the face.
Make sure to have a good night's sleep prior to the night of the party to look fresh and avoid dark under eye circles as they play up havoc with your looks. If you cant avoid the dark circles, use a good under eye concealer to hide the dark circles.
Make your cheeks rosy by using pink blusher. You can even wear red lipstick and add shimmer to your make-up if you are in a daring mood.
2. Casual Make - Up: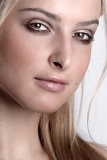 This type of make-up is usually used during the day time or office hours or while going out for a movie, shopping, etc. Those who don't like heavy make-up can go in for this type of light make-up.

Apply a natural colour concealer that goes best with your skin type. Apply then blend well.
Foundation too should match your skin tone. Apply well till it is blended well into the skin, leaving the under eye area.
Apply a light coloured powdered blush to the apples of your cheeks.
Apply eye liner to the eyes. Even a black eye pencil can be used. Perk up your eyes with a single coat of mascara.
Finish your casual look with a coat of lipstick that perks or lights up your whole face. Another option is to use lip gloss instead of lipstick.
Make Up Tips For Different Occasions