Match Your Make-up With Your Outfit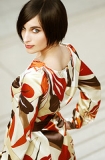 Strike a balance between your lips and eyes. When your lip colour is strong, keep your make-up subtle. For instance, pair your lipstick with fresh, clean skin and a neutral eye area. If you had to get it wrong, would you prefer to be under dressed or be over dressed? If you want to be over dressed, then that gives people an impression of trying too hard. The same rule would be applied to make-up too. Understated make-up is always better. Here are some tips to help you get the blend just right for you. For a special occasion, such as a anniversary party, a wedding, Christmas party, New Year's party, or a night out for fun, it is good to match your outfit with your make-up, looks trendy. For example, an outfit of jeans and a T-shirt often looks awkward with a face completely made up with lots of foundation, mascara and bright red lipstick.But a formal or a flashy dress will look great with the make-up that you are wearing. If the make-up is trendy, the outfit should be trendy too. Lighter colours brings things forward and highlight your features, while darker colours redec and add depth to your face. You need to choose your make-up carefully. Simply buying the most expensive is no guarantee of a success. It may not be suitable for your skin so the clothes dictate the colour rule should be followed and buying expensive make-up for the reason that its the best should be avoided.
Makeup As Per Outfit: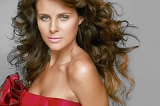 Bright Outfits: Radiance in red..If you are wearing an orange, red or magenta, go for a neutral eye shadow on the lids. This wont go wrong with the shades of taupe, honey, plum and brown. Dont clash the lip colour with the clothes and blush. Use golden colour on your eyelids if your outfit is read with gold work. Go in for a reddish brown eyeliner around the lash line. With an orange outfit, try ivy shadow on the lids and a darker shadow like copper.
Light Outfits: The snowflake touch......Dark, kohl rimmed eyes and a touch of neutral gloss will go very well with light colours. Dark colours add depth and intensity. Light colours add softness and glow.
Black Outfits: The colour of midnight.....Our black numbers come out when we are off for a night to the club or to a very important formal occasion. Black is the colour that is commonly chosen by all women. This colour can match any eye shadow and you can smudge it with charcoal pencil.
Green Outfits: The colour of prosperity.....A deep brown lipstick will look good with a green number. Use neutral eyeshadow with matching green kohl and liquid liner, it will give you a stunning look. A good trick to stand out in the crowd is to gently swipe a white or vanilla highlighter with a green eye shadow. If you are using a blusher, for in for a peach.
Pink Outfits: Pretty barbie doll look.....Pink is a favourite colour among women. Shades of pink and lavender lipstick look good with pink outfits. Put a touch of lilac on your cheeks. Use a baby blue eye shadow for a contrast look.
Yellow / Brown Outfits: Sunshine and earty.....Use golden eye shadow or a deep brown lipstick with a hint of orange you will notice that it works wonders for you. Use a peach coloured blush.
More On How To Match Your Makeup With Your Outfit