Night Makeup Tips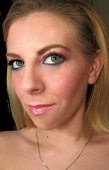 If you want to go out for the night to party, always remember to perk up your make-up, either by doing up your eyes or your mouth, but never do both as it will look harsh and gaudy. Night make-up can be heavy. The first thing you need to decide is whether you want to use light or dark make-up. The next thing to do is collect the tools and cosmetics together. Keep the foundations, blush, lipstick, lip glosses and eye shadow at hand. Make sure to use good cosmetics as the effect of the make-up depends on it.
Here are some tips on the use of make-up when you are going out in the night:
Depending on the skin texture, use a pancake foundation for oily skin and a tinted foundation for dry skin.
Use a rouge which is creamy based as it spreads well on the skin. blush on is good.
Use shimmer eye shadow, that is if you are going out to dinner before the movie or party.
Apply loose powder over your face lightly all over your face but not on your cheeks to retain that natural glow.
It does not mean that night make-up has to be layered thick. Keeping your make-up simple can be the best way to look good, only highlighting your eyes.
Use eyeliner on the upper lid of your eyes. Use thick mascara to highlight your eyes.
Use hightlighter on your nose and forehead, also on your chin, it will give it a glow.
Lip gloss should be something with more oomph than your daytime lip colour.It should shine, glitter and have some colour.
Eyeliner should be a dark eye shadow powder or pencil maybe grey, navy, green, burgundy or black. Even if you wear liner during the day, you will want to intensify and smudge it for evening.
Use sprinkles for the night, but try not to use a thick application so your skin could show.
If you want to make your eye appear bigger than they are,leave open the end of your eye, that is do not connect the top and bottom makeup line with the liner and put mascara in the bottom lashes too.
You can wet your hair and gel it down, leaving a few streaks loose. Hair is a part of make-up and looking good.
Extend the line along your upper lashes a little past the outer eye as this will make the eyes appear bigger. You can also get a sultry look by smudging your liner Smudging will give it a dramatic look.
For special eye make-up, you can use copper, bronze, silver and gold eye shadow, they stand out at night.
To keep your lashes beautiful throughout the night start with an eyelash curler, that is if your lashes are not curly. Just like with hair, heat helps maintain your lashes, so heat up your curler with a hair dryer on low for a few seconds. Curl your lashes. Once your lashes are curled with heat apply a few coats of mascara that wont stick.
You can add false eyelashes if you want to concentrate on your eyes looking the best. Add from the outer part of your eye.
Do not re manicure your nails. If you are short on time and want to wear a dark colour, re paint over old polish.