How To Prepare Your Face For Makeup
No professional make-up artist will ever begin to apply make-up until the model's face has been thoroughly cleansed and moisturized. Make-up applied to skin that is not scrupulously clean will clog the pores and skin will look stale and unattractive. Moisturizers are important for nourishing and protecting the skin. They leave it soft and smooth so that foundation can be applied evenly. Allow your moisturizer a little time to sink in before you begin to apply foundation.

Most make-up artists will use primer before applying any cosmetics. Primers act as a skin smoother, allowing foundation to be applied with more fluidity and give better, more even results. It allows foundation to 'glide' across the skin, rather than having to be worked in. In truth, unless you are a catwalk star, primers aren't necessary, but more an added extra. You can get a similar priming effect from moisturizing effectively and ensuring that you have given it adequate time - usually about 10 minutes to sink into your skin properly.

If you are going to apply evening make-up, look for a moisturizing and firming face mask to use beforehand. You are unlikely to need a specialized, oil-based eye make-up remover to properly dissolve any left over mascara or liner around the eyes and don't forget your eyebrows.

Brows also need cleaning but are often forgotten - dry skin under the hairs can become flaky and obvious, and any residues of brow liner or get can quickly build up to become clumpy.
Steps To Prepare Your Face For Makeup: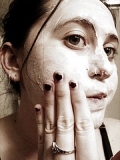 To apply make up properly you should first of all follow these steps.

First step is to exfoliate. Our faces are always exposed to the sun, heat and pollution and the result is dead skin cells get accumulated on the face. Buy a gentle face wash. Take a little on your fingers, then rub it on your face and massage it into the skin lightly in circular movements. Put concentration especially on the rough areas like the nose, chin or forehead. Rinse it with warm water.
Second step is to use a toner. After you have used the face scrub, it is important to use a toner to close the pores of the skin. This will keep your skin fresh and remove all the impurities. Get a skin tone appropriate for your skin type.
The third step is to moisturize. Your skin needs to be hydrated and you have to nourish it by moisturizing it. As we get older, our skin loses elasticity so applying cream helps to prevent damage. Feel to check if your skin is absorbing the moisturizer. If you find that your skin still feels greasy after 5 minutes, you are putting on too much of moisturizer.If your skin feels dry or pulls, you are not using enough moisturizer. Sensitive skin needs more attention. The right balance of toning and moisturizing often solves the problem. The process is the same, but be sure to use products for sensitive skin. Your skin always needs tender, loving care, every day and throughout the year, not just during the cold months.
Now apply concealer on dark circles, and blemishes on the face.
Take a make up brush and some pressed powder and sweep it evenly over the face. Now that your face is ready for make-up, go ahead and enjoy.
Tips On How To Prepare Your Face For Makeup