Makeup Removers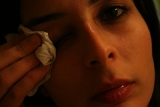 Makeup Removers are must to remove makeup properly. By not removing your makeup before you go to bed is asking for trouble. Make up for a long period of time makes the pores and skin dirty. Like we need air to breathe, like wise our skin too needs air. Not cleaning or removing the make-up from the face results with you waking up with tightened, rough and unclean skin. Various makeup products, which people apply on their skin, are loaded with different kinds of chemicals. If kept on skin for longer durations or by not removing them properly, these chemicals will penetrate into your skin, clog the skin pores and damage them for long term. Always ensure that you remove makeup before going to the bed at night time as this is the time when skin regenerates itself, so let it breathe. It will help skin look healthy and maintain its natural tone.
Types Of Make Up Removers:
1. Eye Makeup Removers: Waterproof mascara is a stubborn makeup designed to stay for longer periods and cannot be easily removed. As eyes are very delicate, you have to be careful how you remove your mascara.

Action: Take a damp cotton ball and apply a little baby shampoo and baby oil over the lashes and area around eyes with it. Take olive oil on cotton ball and gently rub it on the lashes. After that, remove excess oil with warm damp washcloth. Oiling conditions the lashes. Another method is to mix castor oil (1 tsp), olive oil (1tsp) and Canola Oil (2tsp) and apply on area around eyes. Olive oil is natural anti-oxidant and is not harmful for eyes.

2. Face Makeup Removers: To remove makeup from oily skin, choose a makeup remover having tree tea oil.
Action: To properly apply the makeup remover, take few drops on a cotton ball and gently wipe the skin face and neck. You should leave the remover on skin for few minutes to let it dissolve the makeup completely. Opt for a branded makeup remover, which has cleansing as well as moisturizing abilities. Always choose makeup remover according to your skin type. If you apply oil-based remover on oily skin, it can lead to makeup breakouts.
Homemade Remover: One of the effective makeup removers, which you can prepare at home, is mixing rose water, lemon juice and few drops of baby oil. Apply it on the skin and wipe off using damp cotton ball. It will help remove makeup, dirt and grease from the face. It helps open the pores of the skin. After applying remover, rinse your face many times to wash off.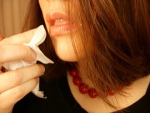 3. Lipstick Makeup Removers: One of the problems with lipstick stains is that the stains are not noticed right away. That means the lipcolour stain has time to set in, making it even more difficult to remove as time passes by. Lipstick stains happen because of an intimate moment, a friendly hug, or just turning the head wrong and touching the collar. However, rather than getting frustrated, you can use various techniques for lipstick stain removal.
Action: Before you do anything, make sure to check the label of the affected garment to determine the fabric. Since many shirts require special treatment such as dry clean, you may need to take the item directly to the professional. Keep in mind that lipstick is an oil-based cosmetic. Therefore, you want to use remedies that will combat the grease. Start with alcohol, which works well. Do not rub, or you'll spread the mark. Simply take a clean white cloth and moisten it with alcohol. Then, blot the lipstick stain, which will disappear. Another home remedy is dish washing detergent such as Sunlight and Dawn, both formulated to fight grease. For this method of lipstick stain removal, dab on a little detergent, let it set for about 10 minutes, and then gently begin working on the stain from the outside edges inward. Finally, hair spray is an old trick used by women and men for years. As long as the fabric will permit it, spray right onto the stain, and then let it sit for about 10 to 15 minutes. In most cases, a clean cloth moistened with warm water is all you need to wipe the stain away. If your find this method of lipstick stain removal does not completely remove the stain, repeat and then wash by hand using detergents.
Different Kinds Of Makeup Removers