Makeup Tips For Teenagers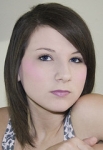 Today's teenagers have become very conscious of their looks. They have started to pay more attention to their looks, dressing and full get up. Whether it is for college, parties, a night out or going for a movie, they dress accordingly for that particular occasion, keeping in mind that their make-up is in place, making them look attractive and charming. This is the age when they enter the interesting world of make-up and fashion and the interest to experiment with it comes with zeal and excitement. Teenagers become interested in make-up from the time they enter college. At this age, the skin is very delicate, and make-up should be soft and subtle, putting on extra makes one look garish and destroys the skin. Make-up enhances a person's beauty and increases one's self-esteem. When a teenager wears make-up, it should look natural and the real purpose is to have a fresh look and not to look like an adult.
The Right Makeup For Teenagers:
As you know, teenagers have soft skin, which is unexploited and you should take utmost care to keep it that way. Remember not to use harsh make-up as that would spoil the skin texture. Too much of it will spoil the innocent look and make you look much older than your age. Be careful with the products that you buy. Do not try to imitate other people while putting make-up as what suits one might not suit another person, so developing your own style and trend is most advisable. Stay away from making yourself 'trying to look sexy and glamorous' as it will hide your innocence.
Makeup Tips: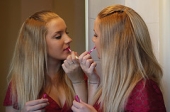 Use oil-free cleaning/hydrating lotion on the whole surface of the face and downwards up to the neck before applying foundation. It helps gives the foundation a better finish, protects the skin and keeps its hydrated.
Take a small amount of foundation on your finger tips, apply it to the forehead, nose and cheeks, this will give it a smooth finish.
To hide any dark circles, apply a little concealer under the eyes.
After the concealer is applied, take a big brush and dust some powder in the area where the concealer has been applied.
To retain that innocent look, use natural shades of make-up, but the colours can also be bright.
Retain your innocence, as this itself adds to your beauty. So avoid make-up which over-shadows your innocent look and charm.7. Make-up itself does not make the look complete. Try experimenting with different hairstyles, that will enhance your looks.
Just like your hair, experiment with footwear, it will give your look a complete make-over.
As skin is very tender, make sure to keep it toned, moisturized and always clean. Do not use harsh products.
If you want to use extra make-up for a special occasion, add extra colour to your eyes, but do not add extra glossy make-up elsewhere on your face.
More Makeup Tips For Teenagers