Right Makeup Tools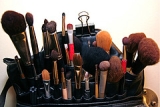 Make up is incomplete without the tools. They are an extension to make up. When you apply make-up, you don't only require quality products but also quality tools to ensure that you get that look that you want. So rather spend that extra money and buy best quality tools that are well made, last a long time and do their job well. A make up artist, like the other artists, need the best make up tools to get the looks she wants. Creating a perfect base is the most important step in make-up. Without it your eye and lip shades will highlight imperfections such as lines, spots or redness. Base make-up to most people means a mask of foundation, but that's not necessarily the case at all.
Right Makeup Tools:
Foundation Sponge: It is essential but many women prefer it to fingers. Wash the sponge after every use in a little baby shampoo.
Eyeshadow Applicator: For more intense looks, sponge applicators give a greater depth of colour. Choose one with a soft foam tip and a short handle.
Eye Shadow Brush: To give a dramatic effect to the eyes, the eye shadow brush should is a must. Eye shadow brushes come in various varieties and sizes like small, medium and large and are round, square or tapered. The small brush is for the corners of the eyes,the medium one helps to contour the eye and the large ones are good for all over colour. It is best to use a medium sized brush to give your face that perfect application instead of using the brush that comes along in the pack, which is tiny. The applicator in the pack is too small and does not allow proper coverage over the eyes. First of all, buy one make up brush to start with and with experience, you will end up buying the right ones.A flat, centimetre-wide eyeshadow brush is great for applying soft-looking shadow. A short handle gives more control and helps stop flecks falling on your cheeks.
Eyelash Comb: If you want to apply without clumping, an eyelash comb is a must. Use it while lashes are still wet. You can buy metal eyelash combs, but plastic is safer because it isnt as sharp. And always brush downwards to lessen the risk of scratching yoour eyes.
More Right Makeup Tools