Update Your Makeup Bag
Cleanliness Of Make Up Bag: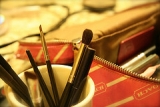 How many times have you wondered what is in your make-up bag that you have to throw out. There might be useless items that take up place which by all means should be taken out. This is what you should do to keep your make-up bag up to date and clean:
1. Throw Out Useless Items: There are times when you go out and buy things without thinking and normally add to your make-up bag. Sometimes you buy a co lour that you don't like anymore or something that doesn't suit your face. Don't feel bad about throwing it out if its of no use to you and you will never think of using it. Don't carry your entire office in your make-up bag. Don't keep hoarding your bag with paper clips and paper notes along with liquid paper, that will take up precious space. Instead, buy a smaller bag which will hold just the essentials. If you are carrying sponges, make sure you clean them regularly.
2. Keep Essentials Only: Instead of carrying dozens of lipsticks that you assume you will require for some occasion or the other, decide which one is your favourite and the most used one, keep that and gather the rest to keep at home. Don't carry baggage around.
3. Expired Make - Up: Just chuck out old make-up which have expired. Don't attach sentiments as it wont help you to buy fresh ones and you will end up storing useless cosmetics. Each product has its expiry date and when it comes to that, do not hesitate to get rid of it.
4. Be Squeaky Clean: Keep make-up containers closed tightly and wipe off dirt, that will protect it from bacteria and germs. If you are sharing your make-up with your friends, then make sure you wash out the brushes and the sponges. If make-up is not kept in a clean place, then you are prone to infections.
5. If You Are Not Using It..Pass It On: If there is something in your make-up kit that is not useful for you, it is unnecessary to hold on to it. You must be having or knowing some one who will appreciate a lipstick of eye shadow which you are not using, it might come in handy to them. So give it away.

Another thing that should be present in most of makeup bags, is a clean container. For that reason, one's hygienic container must include all means of caring about skin and body, to keep it clean and healthy. There should be some medicines in it as well as soap, shampoo, hair and face masks, creams and tonics, makeup remover, tampons with cotton wool, etc.