Makeup To Look Young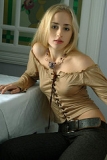 A time comes in everyone's life when you start getting worried about wrinkles and lines around the face. After the age of 30, some of our connective tissues break down and stop working, and the oil production in our body diminishes, causing wrinkles. But wrinkles and lines are also caused by factors like drinking and smoking which slows down circulation, not giving the skin much oxygen. The ultra violet rays of the sun also damage and dry the skin, causing wrinkles. It is at this phase of life, you think of ideas about how to look your best, and that means taking years off your face. It can be done with the skill of make up to make you look younger. Make up does not necessarily mean it will make you look younger, reason being "how it is applied". It can add years to your age or it can also make you look younger. The main idea is to apply make up according to your facial structure, not to follow fashion trends and evaluate your face type and complexion, then make up can take years off your face and work to your advantage. It is better to avoid fashion extremes and bright colours when you are over 40. Younger skins can get away with garish make-up, but it emphasizes fine lines and wrinkles on most women. Flatter your looks with subtle colours and throw away bright eye shadows and neon lipsticks. If you don't know where to start, make an appointment for a free makeover. You will be able to see which shades suit you, before you buy.
Make Up For A Younger "You":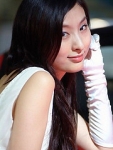 It is true when it is said that 'less is more'. Sometimes women are under the assumption that the more make up they apply on their face, the more younger they will look, but that is absolutely wrong. Too much of make up can age your skin. In many parts of the world, especially in the Western parts, women use too much eye make up and it results in adding years to the look. So the less you use and with the correct application, it can do wonders to make you look younger.
Complete Care To Look Young:
1. Lipstick Shades: A fair skin person will look awesome with dark lipstick but then it does not suit all lip shapes. A person with full lips can go in for darker shades of lip colour but as you age, the colour of lipstick should be lighter as they look better.
2. Hair Styles: Keep your hair mid-length or short, this is an option you can choose to look younger. Very long hair can make you look older. Take years off by using hair colour, a shade lighter or a brown, and highlighting it is a good idea, it will change your appearance. Cover up grey strands by using a colour. You can cut your hair in layers with a side flip parting and leave few bangs at the front of your forehead, this will make a big difference to your appearance.
3. Teeth Care: Regular check-up with the dentist is a must to have a set of good white sparkling teeth, free from cavities and tartar. Use a toothpaste that suits your teeth and keep them clean, in order to avoid permanent loose teeth and infected gums, which is quite common as we progress in age.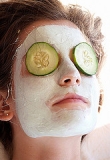 4. Face Care: Do not use products on your face to follow the latest trend, it doesn't work that way. Use an anti-aging cream, suitable for your skin and a face wash regularly. Using light eye make up and pastel lipsticks will make you look younger and sophisticated. Do not pluck your eyebrows if you don't want to, as over plucking can give you an appearance which you will not like, of course, not helping in any way to take years off you. But you can add an arch to your eyebrows, giving your face a natural lift. Light foundations work better for older women. They cover the imperfections in the face and adding moisture and SPF to the skin. A concealer with moisture base will do wonders for your skin.
5. Body Care: Exercise daily, and do cardio workouts. Staying slim and trim, practicing to keep a proper posture, eating correctly and maintaining your weight will keep you young both internally and externally. Apart from this, use sunscreen everyday, drink plenty of water and say no to drinks and smokes.
6. Proper Sleep: Whether work pressure or domestic pressure, sleep for at least 8 hours every night. Proper sleep rejuvenates the skin and body, and the eyes are the soul of the body, so if you are not having that sleep which you require, your eyes will tell it all. Get rid of the bags under the eyes and the dark circles and see the difference.
Look Younger In Six Steps