Makeup To Look Young
Look Younger In Six Steps: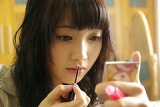 Apply your foundation with a damp sponge, blending away any harsh edges to avoid tell-tale tidemarks. This is the stage at which to apply concealer, dotting it on to under-eye shadows, blemishes and thread veins with a brush. Apply a tiny amount at a time, and blend it in thoroughly.
Use half as much blusher and twice as much blending. Cream blusher gives your skin a soft glow. Dot the blusher on and blend with your fingertips. Set foundation and blusher with translucent powder, but remember that too much powder will settle into fine lines and wrinkles, and emphasize them. The best way to apply powder is only to blot the areas that need it, then brush away the excess with a large powder brush, stroking downwards.
Many women don't feel confident about applying eye shadow properly. One of the most effective is an eye shadow formulation that is easy to apply - cream to powder eye shadow. It applies as a smooth cream, and dries quickly to a super-soft powder finish. Opt for a subtle shade such as mid-brown, grey or taupe. A good tip if your eyes look rather droopy is to blend eye shadow upwards and outwards at the outer corners. Remember to blend it in well.
Harsh lines of colour close to your eyes can be hard and unflattering. You will emphasize your eyes much better if you smudge a little neutral-toned powder eye shadow under your lower lashes with a clean cotton bud (swab).
Most women's colouring fades slightly over the years. This means that the black mascara you are used to wearing can now look too obvious and harsh. Try switching to a lighter shade for a more flattering effect. Apply two thin coats, allowing time for the first to dry thoroughly before you apply the second.
If lipstick tends to "bleed" into the lines around your mouth, use a toning lipliner first. Keep it firm to give a precise line, yet soft so as not to drag the skin. Outline your top lip first, working outwards from the centre. Dust your lips with loose powder to set the lipliner, before applying a glossy, moisturizing lipstick.
Some Useful Tips: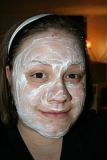 Get a facial done regularly to rejuvenate the skin and increase blood circulation.
Clean your face daily before going to bed, then apply a age defying cream, it works wonders at night.
Before going out for a party, use a cold eye gel mask and keep for few minutes, it removes puffiness from the eyes, giving the face a fresh look.