Natural Makeup

There can be natural alternatives to most cosmetics. lipsticks, nail paints, foundations and eye-shadows are available in herbal varieties from well known brands. Chemicals entered the make-up kit just a few generations ago, whether as chemical binders to help lip colour last longer or water proof foundation packed with chemical grease. People have been decorating themselves for around 6000 years, and most of this history has seen natural products. From Egyptian queen Cleopatra to famous models, make-up has come a long way. In India, women tinted their lips with betel leaves and get that blush on their cheeks by using rose petals. Most of the beauty aids they used were natural and kind to the skin and hair and even had health benefits. Now, what we call modern make-up, can have a reverse impact on your health. We know that natural make-up products are not loaded with chemicals and are softer on the skin whenever you apply it.
What Is Natural Make-Up?
As the word "natural" suggests, is a substance in harmony with nature or derived from nature. Natural cosmetics are made from ingredients like fruits, vegetables, honey and herbs. They are less likely to harm your skin, hair or eyes. They provide natural ingredients that the skin needs. Oils are present in the natural foundations which keep the skin supple and provide a clean canvas for make-up.
What Is Synthetic Makeup?
Synthetic substances are made artificially through chemical processes. Contrary to popular belief, synthetic is not always bad. Most of the brands are well-known and approved by the government authorities and agencies and the end results of using them are excellent.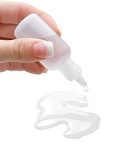 Natural Versus Synthetic:
This is a debate that has been carrying on for a while. Make-up is for personal use and the choice should be personal. Once there is awareness with availability, more may switch over to natural products. In an ideal world, we would obviously pick natural make-up products over the synthetic ones. But in reality, it is different. Even now days natural make-up is not 100% natural they use a certain amount of chemicals as binding and stabilizing agents. Natural ingredients decompose fast if they are not stabilized. Easily manufactured ingredients like cocoa butter and shea butter were earlier extracted naturally. Now laboratories have taken over.
Benefits Of Natural Makeup