Natural Makeup
What Are The Benefits Of Natural Make-Up


Regular lipstick users use 1.5 to 4 tubes of lipstick in a lifetime which is hard to believe. If one considers the cosmetic ingredients being internalized by the body, absorbing plant oils and waxes, mineral pigments or essential oils is a far healthier alternative to absorbing petroleum by products and synthetic chemicals. Some ingredients that are taken from leaves, roots and fruits supply essential nutrients to the skin. Skin's texture and health can be benefited from the essential oils of certain plants. These products don't usually harm the environment and are bio-degradable. They don't harm you neither the environment.
What Are The Options
For cosmetics, you can choose natural ones. All types of make-up are available in herbal varieties. There are some stores that have virtually everything natural that you can think of, in various options and international standards. These renowned products are available only in the bigger cities, but they are there to pick from. Many beauty therapists also market their personal make-up products online.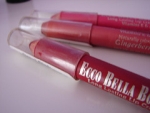 Is The Natural Option Always Better:
Wisdom says that the natural way is the best. But whatever we use, even if it is natural, we should be careful. Many skin specialists believe that there is not a big difference between natural and synthetic cosmetics as natural cosmetics don't use natural substances as a whole but use their extracts or essence or essential oils. So does synthetic cosmetics do. First test the cosmetics before buying and it should ethically be tested on humans. The product should be tested for at least 42 to 78 hours for any allergic reactions. Many people have been having allergic reactions with natural brands. Synthetic cosmetics are tested on humans as well as animals. It is important to go on brands, whether synthetic or natural.
Choosing Natural Makeup