Master Make - Up Moves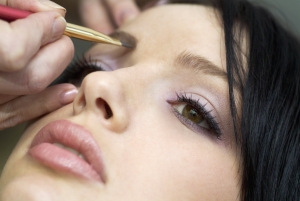 Clear, bright colors of spring appear to have inspired make-up artists and designers for the year's seasonal looks. Unusual combination of glitz and glimmer are being applied to eyes and lips. At the same time, the trend towards sporting a more natural look is still popular. This makes way for "nude" tones in make-up to give the face a natural glow.
Here are a few methods to get that "nude look" and products recommended depending upon your complexion and skin type.
1.Nude Look I (For Normal, Fair Complexion):
A. To get the natural look, avoid using dark shades and opt for light tones and pastel pinks and peaches.
Brands Recommended: For a long stay (more than 12 hours) and 100 per cent waterproof foundation, one can use Kryolan foundation sticks or MAC powder foundation. Do a patch test on the inside of your forearm before using.


B. Eyes can be highlighted with ivory shimmer shade. On the eyelids one can use a single shade on the lines of earthy pink and peaches, with mascara and a thin eyeliner.
Brand Recommended: Swish (MAC), Ladies Night (BnD), BB-851 (Bobbi Brown).
C. For lips, first use a balm to help move your lip pencil smoothly and fill in with the lip liner. Use natural or nude pinks and browns, and a nude shimmery gloss over them for evenings out.
Brand Recommended: The shades are Velvet Coy (BnD), Angel (MAC), BB-221 (Bobbi Brown).
D. Finally, highlight the cheek bones with peach or rose pink shades. For the evening one can add shimmer powder or bronze over them to give a glamorous look.
Brand Recommended: Captive (BnD), Trixie (MAC), Rose Pastle (Bourjois) and shimmer palette of Bobbi Brown.

Tips:
1. The magic of blush powders is obvious. Blush make-up is a fast-fix. It warms up the skin, contours the cheek, exaggerates an attractive hollow, and ideally creates a glow on your face that looks like it comes from within. Never judge a blush powder just by looking at it. Cosmetics and face blushes are found in different shades and textures. Test your blush powder on the inside of your forearm if you are wearing make-up already.
2. Choose a foundation and concealer that works for you. The goal should be to match your skin tone as closely as possible with your concealer. To conceal acne, spider veins, scars or tattoos, be sure to blend, blend and blend. Never use an uncleaned concealer applicator on your face as it will foster bacteria and you'll end up with a face full of spots which may require treatment.
More Nude Looks