Party Makeup
There is this time of the year in December, the time to party with abandon. And the one question that hangs before most of us is what to wear to the party - be it make-up or clothes. A party does not mean going over board with make-up. It is important to create a balance between colours, shades and textures. Here are some suggestions and dressing up tips step by step.
Preparing Yourself For A Party:


Choose your clothes, footwear and accessories for the big occasion in advance. Once you put everything together, it will help you come to an idea about your look and you will be able to select your make up accordingly. It is a party but it doesn't mean that you have to over-do it with your clothes or make-up.

1. Face: Try to get a shimmery, dewy look. Since winters are generally dry, a dewy look will add freshness to your face.
Some pointers are:
- Make sure your skin is cleansed and moisturized before you apply your make-up.
- For blending your foundation well, apply it evenly with short downward strokes from the middle of the face outwards.
- Apply a concealer under the eyes and set in the foundation by using a translucent powder with a fluffy brush, then apply the make-up as usual.

2. Lips: Sometimes the choices change from maybe a pink to a bold red and metallic colours. Many women may find those colours very loud for their taste, but you can go right ahead with it. It is ok to be dressy once a year, that too, when it is ending.
Some easy tips are:
- If you have dark lips, a beige lipstick will conceal them.
- You can add a rose hued lipstick to make your lips look warm and fresh, or try a super-stay gloss.



3. Eyes: Go catty with a smoky green look this December. Shades of grey are also hot. This is hot to get it right for the party.
Here are some tips:
- Put sparkling beige eye shadow on the lids and taupe powder in the crease to add depth.
- Blend in a grey-green eye shadow on the lids and under the bottom lashes, then smudge slightly outwards with a soft brush. Use double intensity mascara. It lengthens and doubles the volume of lashes and is smudge-resistant.

4. Hair: - Go retro with puffed-up hair and fringes.
- Soft, tousled, loose waves, natural highlights, layered bobs and large buns are making a comeback.
- Fringes are still in, with this style you can push your hair to the side easily and part it. Or wear it full and you will look fabulous every time.
- Side parted hair is now much in vogue and it works well for both tied-up hair as well as for loose hair styles.
- A defined bold cut beats wishy-washy tresses. So, make a statement, whether it is long or it is short.
- Add layers for volume and to get a defining silhouette.
- Part hair when it is still wet and style it.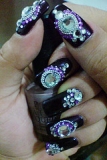 5. Nails: Like for lips and eyes, go for metallic colours, silver, graphite, chrome and platinum, in nail paints as well. If you do not have time or a desire to follow all of the above, there is a two step instruction that will make you looking glamorous and read to rock in 15 minutes flat. It is very simple - get a smoky-eyed look and wear a rich, vibrant red on your pout.
More Party Makeup - Use Of Glitters